Pink & White Productions' educational program CRASHCOURSE features short informational videos by director Shine Louise Houston, and ongoing workshops that cover a myriad of topics, including technical information, filmmaking skills, marketing strategies, and performer advice. Guest presenters include Nina Hartley, Lyric Seal, Chris Lowrance, Jiz Lee, and more to come.
Upcoming CRASHCOURSE Workshop: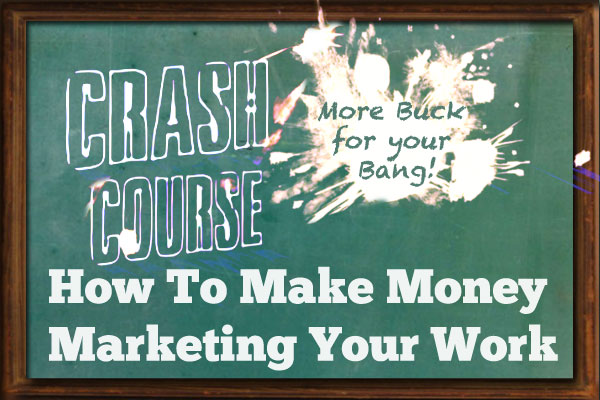 CRASHCOURSE: More Buck for your Bang is a monthly workshop offering an introduction to affiliate programs, hands-on assistance with online marketing tools, and consultation on marketing campaigns and social media strategies. No programing or coding knowledge is required, and basic HTML coding may be taught as needed, specific to embedding images, video, and creating links. The hour-long class is free to past performers of Pink & White's projects (CrashPadSeries.com, HeavenlySpire.com, or PinkLabel.tv producers and performers) or a $20 pre-registration fee for other members of the Bay Area adult community. Sliding scale entry is available to people with low-income on a case-by-case basis. Lead by Pink & White Productions' Online Marketing Director Jiz Lee, the workshops are supplemented with drop-in Office Hours, where Jiz provides one-on-one support, in person or online for those located outside the Bay Area. Jiz has over nine years of experience in front and behind the camera.
CRASHCOURSE: More Buck for your Bang
How to Make Money Marketing Your Work
(A Monthly Affiliate Workshop for Performers & Industry Professionals)
Next CRASHCOURSE workshop: Friday, June 5th 3-4pm (4-4:30 optional open work session, bring your laptops!)
Class Limit: 5 Participants.
Cost: $20 to members of the adult community. (FREE to Pink & White Performers and Producers)
Location: Pink & White Productions Studios, San Francisco, CA
(Address provided after required pre-registration.)
Register: Jiz@PinkWhite.biz
Additional "Drop-in" Office Hours are available upon request.
CRASHCOURSE: More Bang for your Buck is presented in coordination with the Pink & White Affiliate Program, offering competitive commissions for webmasters, including a special commission rate for Pink & White's past performers. Join our affiliate program: affiliates.pinkwhite.biz.
---
Past Workshops:
DIY Porn: Down & Dirty
Saturday, November 1st 2014 at University of Toronto, Ontario Canada
Presented by Shine Louise Houston and Jiz Lee
If You Build It, They Will .Com: Website Development & Troubleshooting
April 6 at the Feminist Porn Conference at the University of Toronto
Presented by Chris Lowrance, with Jiz Lee
Download Supplemental Handout PDF
More Buck for Your Bang: Affiliate Marketing 
April 5th at the Feminist Porn Conference at the University of Toronto
Presented by Jiz Lee, with Shine Louise Houston
---
Videos:
"How can I make porn, too?" is one of the most common questions we get at Pink & White Productions.
We created our emerging pornographers series Point of Contact, to empower producers with the tools, budget, and support needed to explore the wide world of producing adult content. But we only have so many cameras to pass around, and so many hours in the day to help others reach their dreams of putting their unique erotic visions out to the world in a way that's healthy and sustainable. That's when CRASHCOURSE was born.
CRASHCOURSE is an educational program designed to inspire and empower new erotic works from emerging (or cross-over) adult producers. In a series of short informational videos, Pink & White's director Shine Louise Houston covers a myriad of topics including technical information, filmmaking skills, marketing strategies and performer advice. Special guests to help her discuss the expansive world of adult video production include Nina Hartley, Jiz Lee, Lyric Seal, and more to come!
CRASHCOURSE | Your Big Idea! How to Produce Porn
In this first installment, YOUR BIG IDEA, Shine Louise Houston and guest performer Jiz Lee talk through some things to consider when brainstorming your first video, including project scope, location, talent, script, finances, storytelling, and how — even in porn — less is more.
CRASHCOURSE | Starting Your Screenplay
"You had Your Big Idea, but how are you going to write it?" From brainstorming, organization, plot line, and stringing it all together, Shine Louise Houston provides the tips and tricks that make a cohesive narrative and compelling story.
CRASHCOURSE: How to Create a Comfy Environment on Set
This free CRASHCOURSE video was commissioned for Smitten Kitten's SWELLcon

Feminists talk about the virtues of "ethical porn," but how does one DO it, exactly? From a production standpoint, several factors combine to ensure a sex-positive and respectful experience on set. With performers AND crew in mind, these steps help to create one of the fundamental elements of an ethical production.

Pink & White Productions founder and director Shine Louise Houston and performer/production assistant Jiz Lee detail the specifics of an ethical environment in producing porn, including: communication and consent, performer care, safer sex, boundaries, gender and language in directing, and much more. With over eight years of award-winning production and performing experience on indie and mainstream sets, Shine and Jiz come together to show how a comfy environment can produce a knock-out porn scene that everyone can be proud of.