Pink & White Wins Monumental XBIZ Awards
Adult Industry Recognizes Queer, Feminist Porn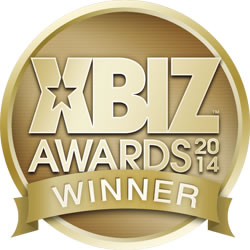 SAN FRANCISCO (January 30th) — Bay Area porn company Pink & White Productions received 2014 XBIZ Awards "Feminist Porn Release of the Year" for its short film OCCUPIED: a queer hardcore romance for the 99% and "Specialty Site of the Year" for its queer porn site CrashPadSeries.com.
"What the #$*?!" said Shine Louise Houston when she heard the news. "It was a shock, it was a big shock because we're a small company, an outlier to the main adult industry, so getting that kind of recognition was surprising. It's good to see that our efforts to make unique content is received not just by our community but by a wider audience than what we'd expect."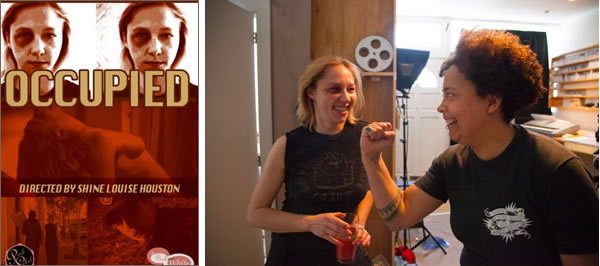 OCCUPIED stars Maggie Mayhem (left) and Pink & White Director Shine Louise Houston (right).
OCCUPIED is set within the international social-economic "Occupy" protest movement and stars Maggie Mayhem who draws from personal experience supporting the Oakland and New Haven Occupy camps. The story was conceived by porn performer, trans advocate and beloved Feminist Porn Award's Heartthrob, Drew DeVeaux, and features legendary Feminist Porn icon Annie Sprinkle — herself a champion of sex worker rights and health care — and her wife and artistic collaborator Elizabeth Stephens, in a nonsexual cameo role.
"Feminist Porn Release of the Year" nominees included Pink & White Productions and lesbian companies Filly Films and Girlfriends Films, Queer/Trans companies TroubleFilms and Buck Angel Entertainment, and couples-oriented New Sensations and Adam & Eve's kinky sex guides by Tristan Taormino.
"OCCUPIED was our first mini-feature," Houston explains. "It was a company test-run outside of our previous feature films and ongoing web series – so I guess this means we'll be making more!"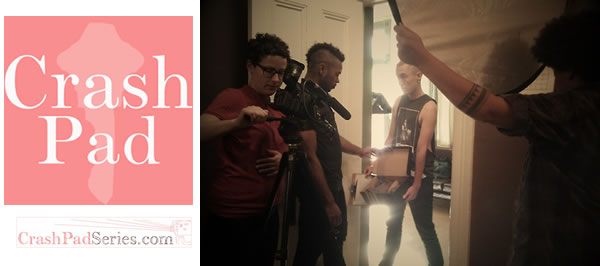 Co-director Shae Voyeur, stars Jade Phillips and James Darling, and director Shine Louise Houston.
"Specialty Site of the Year" included a short list of queer and female-focused nominees: Sssh.com, Dorcelle.com, QueerPorn.tv, CrashPadSeries.com, and Pink & White Productions' new VOD hub for indie and emerging adult filmmakers, PinkLabel.tv.
CrashPadSeries.com's win is a reflection on the site's extensive, diverse content. Based the dyke sex cult classic The Crash Pad, the website continues from where the film left off, portraying a clandestine San Francisco apartment where a voyeuristic landlord (played by Houston herself) supplies keys to the pad's pleasure-seeking visitors so that she can observe their sexual escapades through hidden cameras.
The site was quickly recognized as one of the internet's few "real lesbian porn" websites, focusing on the San Francisco Bay Area queer women's community (inclusive to trans women), as well as open to trans and cis men, genderqueers, and kink sexualities. Such flexibility follows the Pink & Whites' mission to produce sexy and exciting images that reflect today's blurred gender lines and fluid sexualities.
With over 350 videos and interviews, CrashPad is a resource for queer communities seeking sexual representation not commonly seen in pornography, including that of people with disabilities. CrashPad has screened at academic institutions, LGBT centers, and is included in sexual health resources such as Freeing Ourselves: a Guide to Health and Self Love for Brown Bois and Human Sexuality 4th Edition textbook.
The award would not have been possible if not for the models who appear on the site and share their sexuality. The We're Special! post on the CrashPad blog highlights performers' thoughts on queer and indie porn being recognized by the major adult industry.
Press inquiries and affiliate information, please contact Jiz Lee at jiz@pinkwhite.biz. Follow @CrashPadSeries, @PinkWhite and @XBIZ on Twitter.
For a full list of 2014 XBIZ Award Winners, see: xbiz.com/news/173901