PinkLabel.tv Adds TROUBLEfilms MtF-Focused Trans Queer Porn
CYBERNET/San Francisco (December 9th) — Pink & White Productions is proud to add the new releaseTrans Grrrls: Revolution Porn Style Now! to its fair-trade, video on demand hub, PinkLabel.tv.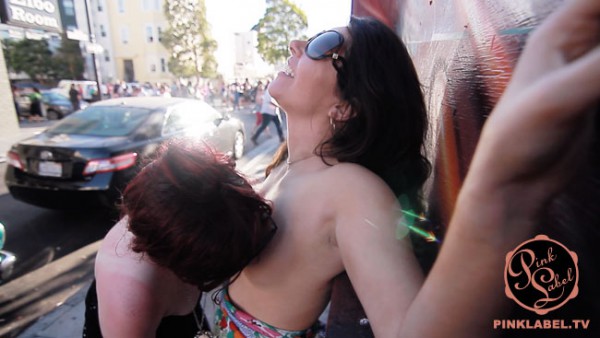 Directed by Courtney Trouble of TroubleFILMS, this queer porn epic is a smoking hot two and a half hours of cute hipster grrrl make-outs, hot boy and girl co-stars, gender bending and blending, heavy petting, playful kink, strap-ons, sex toys, oral, anal, muffing, public sex (at the San Francisco Dyke March!), squirting, cumming, role play, laughter – and even a little bit of love.
Borrowing the iconic language of the riot grrrls, Trouble makes a serious statement with this sex-positive punk rock porno: trans women belong, and should be forefront, in the feminist porn movement. Read Trouble's blog post for background on how their riot grrrl roots play a foundation in their unique and well-scored approach to feminist porn. Pink & White Productions and TROUBLEfilms hope to add to the growing library of alternative trans porn available to the queer community, as well as show what can be done to add to the transsexual porn genre.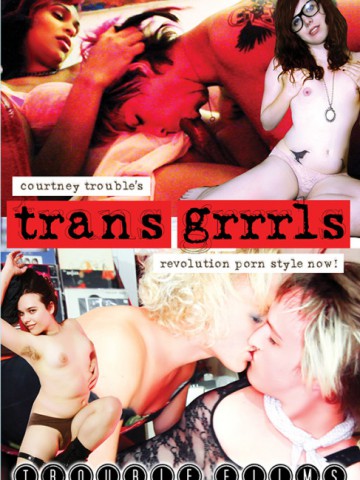 Trans Grrrls: Revolution Porn Style Now!
Starring: Ari Crow, Chelsea Poe, Dylan Ryan, Emma Claire, Hayley Fingersmith, Jacques Lefemme, June Day, Maxine Holloway, Ned Mayhem, Quinn Cassidy, Tobi Hill-Meyer, Velvet
Nominated: Best Transsexual Release (XBIZ Awards), Best Film (Grooby Trans Awards)
LINK: http://www.pinklabel.tv/on-demand/?scene=trans-grrrls
Pink & White Affiliates can link to Trans Grrrls and other PinkLabel films for competitive commission. See Pink & White Affiliate Program for more information.
Affiliate Link (replace XXXXXX with your unique affiliate ID):
http://refer.ccbill.com/cgi-bin/clicks.cgi?CA=934717-0000&PA=XXXXXX&HTML=http://www.pinklabel.tv/on-demand/?scene=trans-grrrls
For all inquiries, please contact Jiz Lee at jiz@pinkwhite.biz. 
About Pink & White Productions
Founded by Shine Louise Houston in 2005, Pink & White Productions is known for portraying authentic queer desire and fluidity of sexuality and gender in adult cinema. The company's featured films and projects have screened world-wide, and presented at academic institutions, most recently at Stanford University. Houston's work adds representation to queer sexualities, spanning communities of color, gender expression, sexual desire, body politics, BDSM and other marginalized experiences with strikingly beautiful cinematography, humor, and realism.
Tags: Pink and White Productions, PinkLabel, Shine Louise Houston, Trans Grrrls, TroubleFilms, Courtney Trouble, MtF, Transgender, Transsexual, Trans, Lesbian, Sexuality, Queer, Feminist, Pornography, Trans Porn, Queer Porn, Dyke Porn, Riot Grrrl, San Francisco, Dyke March, Video on Demand, Ari Crow, Chelsea Poe, Dylan Ryan, Emma Claire, Hayley Fingersmith, Jacques Lefemme, June Day, Maxine Holloway, Ned Mayhem, Quinn Cassidy, Tobi Hill-Meyer, Velvet