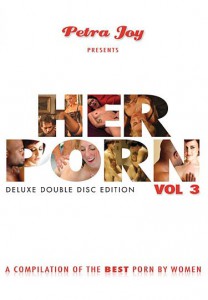 Shine Louise Houston's newest work in Heavenly Spire is now released among the work of nine other female directors to be included in a compilation by Petra Joy called "Porn For Her 3".
HeavenlySpire.com is director Shine Louise Houston's personal project. Well known for her work in the lesbian and queer porn genres for her work with films such as "The Crash Pad" and the popular membership site CrashPadSeries.com, Shine has turned her gaze towards men in a site about masculine beauty and appreciation. In 2011, HeavenlySpire.com was awarded best website by the Feminist Porn Awards. It has recently re-launched with a mobile platform.
Heavenly Spire's selection in Porn For Her 3 features Essex, as seen in the trailer below.
With films by Candida Royalle, Tristan Taormino, Shine Louise Houston, Maria Llopis, Signe Baumane, Astrid Glitter, Marianna Beck, Sam Linton, Sandra Godwin, and Petra Joy, this exciting compilation features 15 explicit short films by 9 female porn directors. Her Porn shows us what turns women on. From a hot threesome to female ejaculation – sexual variety, female pleasure and authentic orgasms are the focus of all films. Her Porn is fresh, hot and innovative porn – for women and men who lust after a new kind of erotica – from a female perspective.
For more images and information, please contact alliance@crashpadseries.com
About Pink & White Productions
Founded by Shine Louise Houston in 2005, Pink & White Productions is known for portraying authentic queer desire and fluidity of sexuality and gender in adult cinema. The company's featured films and projects have screened world-wide, and presented at academic institutions, most recently at Standford University. Houston has been honored at the PorYes Feminist Porn Awards in Berlin and was noted Toronto's Feminist Porn Awards' Visionary, as well as Curve Magazine's Sex Curator. Her work adds representation to queer sexualities, spanning communities of color, gender expression, sexual desire, body politices, BDSM and other marginalized experiences with strikingly beautiful cinematography, humor, and realism. Following the popular best-selling movie "The Crash Pad", the company's website CrashPadSeries.com portrays an illustrious San Francisco apartment where queers go to have the best sex of their lives. Houston's newest site, HeavenlySpire.com explores masculine sexuality in her signature style. For more information about Shine Louise Houston and Pink & White Productions, visit PinkWhite.biz.