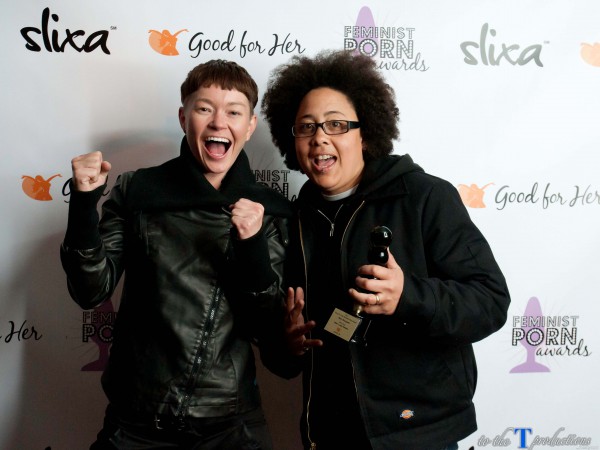 Pink & White Productions Online Marketing Director Jiz Lee (left) celebrates with BED PARTY director — and Feminist Porn Award's "Visionary" — Pink & White founder Shine Louise Houston (right).
Toronto, ON – Pink & White Productions' new release BED PARTY, directed by Shine Louise Houston, was awarded "Best Boygasm" at the 9th annual Good For Her Feminist Porn Awards. The new category marked the first time in the event's nine-year history that an award was presented for a man's orgasm, recognizing the importance of male sexual pleasure within the feminist porn movement.
"Good For Her began organizing the Feminist Porn Awards in 1996 to celebrate the growing diversity of porn where everyone can see their bodies and desires reflected," said Carlyle Jansen, founder of Good for Her and producer of the Feminist Porn Awards. Male sexual desires are included within feminist porn, and a few years prior, Houston's directorial exploration Heavenly Spire was honored for its depictions of masculine sexuality. Continuing in this direction, BED PARTY presents a complex depiction of queer desire.
A selected clip screened at Public.Provocative.Porn the night leading up to the awards, featuring an intimate moment for its star kinky porn couple Eden Alexander and Sebastian Keys. In the clip, Eden inserts a gloved hand into Sebastian's ass while performing fellatio. It's a kind of prostate pleasurevirtually unseen in straight pornography, and Sebastian's intense climax when fisted presents a rare display in porn: male orgasm unaccompanied by ejaculation. Throughout, the couples' eye contact and steady communication held the audience positively enraptured.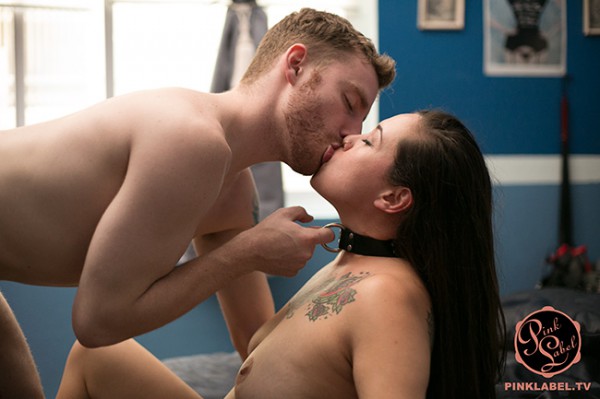 "The most pornographic element of BED PARTY is its intimacy," Houston revealed at the Feminist Porn Conference, held at the University for Toronto. "Porn viewers voyeur on the couples' intimacy." Her intentions for the documentary to present an honest portrayal of the couples' sexual relationship and expose the queerness and intimacy of their cisgender, queer relationship hit its mark with conference participants:
"I felt like for the first time, I've been seen. That was the sex I have," shared an openly weeping man, who identified himself as a psychotherapist, sex educator, and in a queer relationship with a woman. "I've been following your work for a long time, Shine, and I feel that was your best by far." Others in the room echoed his sentiment, expressing with teary eyes how touched they were by the display.
Despite both being regular performers, the film's star couple had reservations about shooting a porn together. The pair reflected on the shoot:
"Part of the reason why we agreed to make BED PARTY is because there's a lot of judgment and hate against cisgender bi and queer people," they shared. "BED PARTY shows how we express our love and sexuality to each other, because we are often questioned and asked about 'how' and 'why' our relationship works.
"This film was a huge risk for us. To invite you into our home, and literally into our bedroom, you see where we sleep, you see where we eat, then to take it a step further and share the way WE have sex, the way WE love each other; well, it was a scary thing… However, you have to trust. You have to trust that the moment you're in is perfect for whatever reason it's happening for. Loving someone deeply gives your strength. Being loved by someone deeply gives you courage. So we went for it. And now here we are. Thank you from the bottom of our hearts for the 2014 Feminist Porn Award. It means so much more to us than you think and we are truly honored to be recognized."
BED PARTY is available online at PinkLabel.tv, which also hosts the complete list of Feminist Porn Winners.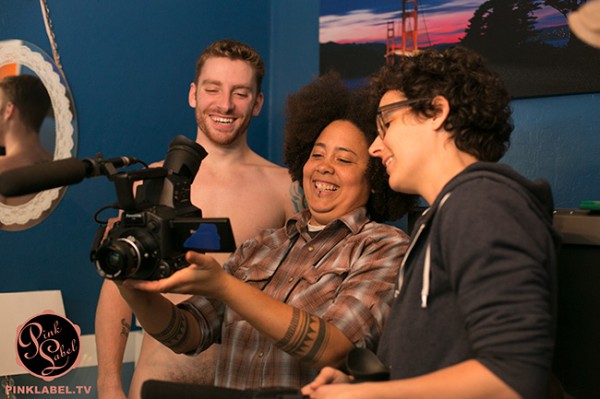 For more information about Pink & White Productions, or to arrange interview with Shine Louise Houston, please contact Marketing Director Jiz Lee at jiz@pinkwhite.biz.
Tags: Pink and White Productions, Feminist Porn Awards, Feminist Pornography, Queer Porn, Indie Porn, Male Sexuality, BED PARTY, Eden Alexander, Sebastian Keys, Shine Louise Houston