SAN FRANCISCO, CA — Pink & White Productions' newest film BED PARTY: Eden Alexander and Sebastian Keys, directed by Shine Louise Houston, has received a nomination for the 9th Annual Good For Her Feminist Porn Awards, to be held on April 4th in Toronto, Ontario.

The Feminist Porn Awards seek to honor pornographers from across the globe, whose groundbreaking work offers a fresh perspective on gender and sexual expression often underrepresented in mainstream pornography.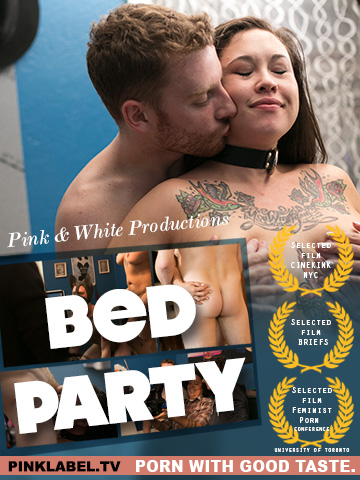 BED PARTY flips the conventional porno script with a documentary-style look behind the private doors of two of porn's public performers. Seasoned kink professionals, the film presented a rare opportunity for the couple's first porn scene together.
Rarer still, is the combination and flow of the couple's intimate and unscripted sexual acts, as noted by feminist pornographer Ms. Naughty: "I think it may well be the first 'straight' couples film I've seen that starts with male anal fisting and gapes. In fact, it could be the first porn film I've EVER seen that starts with male anal fisting."
The film's release made big waves and its unexpectedly kinky intimacy garnished the attention of Nerve.com, profiling BED PARTY in the popular article, When Queer People Make Straight Porn.
The film's star couple couldn't be prouder of the outcome and how its been received by the adult community — queer, kink, and mainstream alike.
"We never thought this invitation into our home, bedroom, and sex life would garner such a strong and positive reaction from our community," expressed the film's couple, Eden and Sebastian. "We are truly thrilled to have gone through this experience with our friends at Pink & White, and even more thrilled to now be nominated for a Feminist Porn Award. It's an honor and a true achievement. Thank you so much!"
BED PARTY marks the company's twelfth Feminist Porn nomination. Pink & White has taken home — and then coyly displayed, tucked into the background of its CrashPad studio set — a total of 9 Feminist Porn Award trophies.
The company's longstanding relationship with Good For Her's annual celebration began at its inception nine years prior. In fact, an "Emma of Feminist Porn" was Pink & White's very first award, received for its debut film, The Crash Pad. Since that time, the annual Canadian event has proved a catalyst in the careers of emerging pornographers and an positive influence for the adult industry at large. Nearly a decade later, Pink & White won its first mainstream adult industry award: the newly minted XBIZ Awards "Feminist Porn Release of the Year."
As Pink & White approaches a decade of creating queer and feminist adult films, Shine Louise Houston and others head to Toronto with excitement to share the new release with colleagues and fans. Regardless of the outcome, BED PARTY cast and crew can already attest to the film's overwhelming success.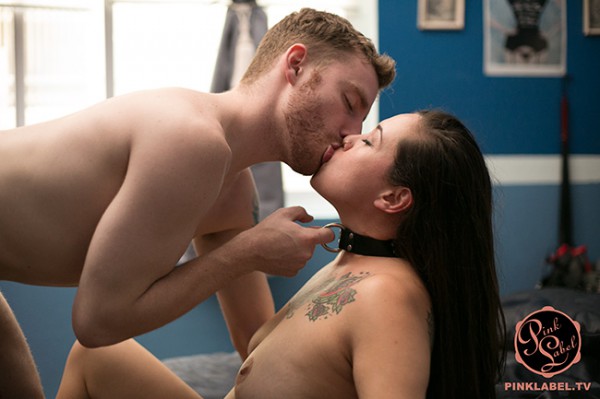 The 2014 Feminist Porn Awards Nominees are available online atPinkLabel.tv. Tickets are available for the Public. Provocative. Porn screening on April 3rd, and for 9th Annual Good for Her Feminist Porn Awards on April 4th at The Castlefield Theatre.
BED PARTY will also be presented at the 2nd Annual Feminist Porn Conference, followed by a Q&A with director Shine Louise Houston.
For more information about Pink & White Productions and BED PARTY, or to arrange interview with Shine Louise Houston, please contact Marketing Director Jiz Lee at jiz@pinkwhite.biz.