Pink & White Director Honored at Europe's Largest Porn Festival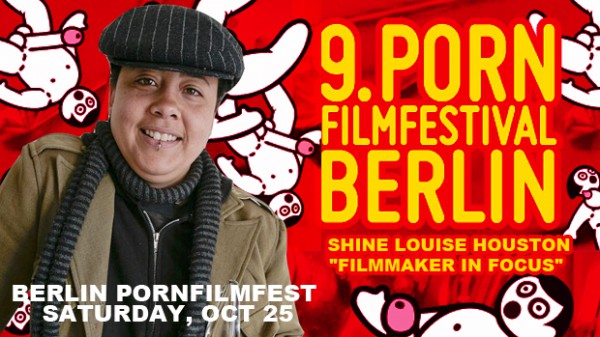 BERLIN, Germany — Pink & White Productions director Shine Louise Houston will present a retrospective of her works at the 9th annual Berlin PornFilmFestival on Saturday, October 25th, 2014 in Berlin, Germany. Houston joins fellow adult filmmakers Joanna Angel, Ms. Naughty, Antonio da Silva, and Jan Soldat as one of five directors to be highlighted with "filmmaker in focus" festival screenings.
The annual event showcases innovative, risk-taking visionaries from film, photography, performance, and music to challenge the genre of erotic film. Festival curators Jürgen Brüning, Manuela Kay, Claus Matthes, and Jochen Werner present a collection of works with the mission to portray an uncensored response to social and aesthetic questions of how we represent ourselves as sexual beings. The curation of diverse talent ensures a wide spectrum of interests and points of view. Over 80 films will be screened in four cinemas, making PornFilmFestival Berlin the largest porn festival in Europe, if not the world.
Filmmaker in Focus: Shine Louise Houston presents an evolution of Houston's erotic works, including her 2005 dyke cult classic film debut The Crash Pad, Feminist Porn Award's "Movie of the Year" winner CHAMPION: Love Hurts, an MMA fighter love story, and her later genre-pushing video projects. Though predominantly recognized as a lesbian porn director, Houston's curiosity and appreciation for diverse genders and sexualities lead her to explore masculine beauty, carving a cinematic niche with Heavenly Spire. Her most recent short film series BED PARTY breaks down the porn wall in a porno vérité portrait of a kinky porn couple. A Q&A following the screening will enthrall film buffs and porn enthusiasts. For Houston, intimacy is pornographic, and her work as a sexual narrator and erotic documentarian of queer, alternative sexualities has captivated audiences for nearly a decade.
The festival will also screen programs with Houston's newest works: queer porn sex ed special CrashPad's Guide to Fisting staring Lorelei Lee and Beretta James, a recent release from her masculine appreciation project Heavenly Spire: Jack Hammer & Jessie Sparkles, and the short film Put the Needle on the Record, staring Drew DeVeaux, Andre Shakti, Ex Libris, and Nikki Darling, with a cameo by original CrashPad star and feminist porn heartthrob, Dylan Ryan.
PornFilmFestival Berlin takes place October 22 – 26, 2014 in Cinema Moviemento. For more information, please visit pornfilmfestivalberlin.de.