Director of Pink & White's Popular Film & Web Series "CrashPad" Recognized by Nation's Best-Selling Lesbian Magazine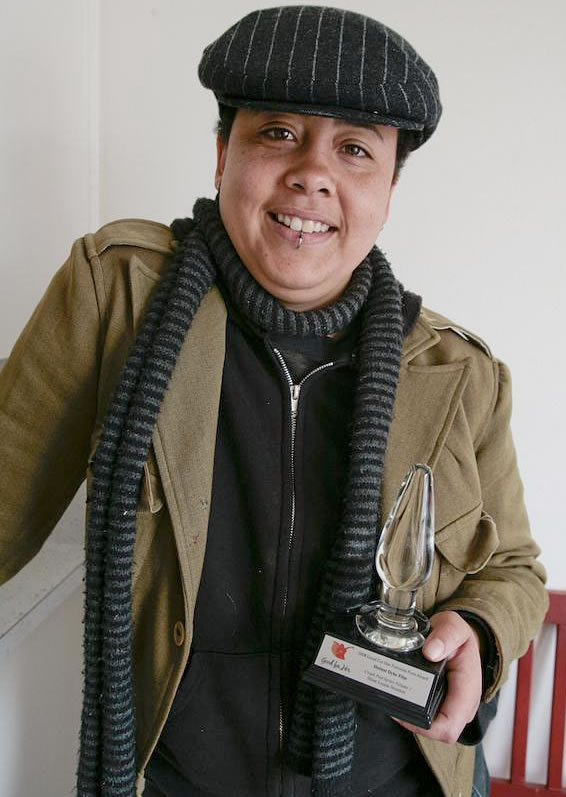 Pink & White Productions founder and director Shine Louise Houston is among thirty queer sexuality trailblazers highlighted in the Jan/Feb 2014 double-issue of Curve, the nation's best-selling lesbian magazine.
Houston appears as a queer icon amongst such luminary figures as 7th century poet Sappho, Simone de Beauvoir (The Second Sex), feminist porn icon Annie Sprinkle, On Our Backs co-founder Susie Bright, author Jude Schell, Ilene Chaiken (The L Word), trans advocate and author Kate Bornstein, trans lesbian filmmaker Lana Wachowski, trans male pornstar Buck Angel, Ann Bannon (of Beebo Brinker lesbian pulp fiction fame), queer African American jazz singer Bessie Smith, pop icon Madonna, 1930's Hollywood actress and gay icon Marlene Dietrich, Cleis Press co-founder Felice Newman, photographer Phyllis Christopher, authors Rita Mae Brown, Virginia Woolf, fellow pornographers Tristan Taormino, Nina Hartley, and others.

Houston is a prior recipient of Curve Magazine's "Lesbian Sex Culture Curator" Award, referencing her influence and interests in diverse representation in CrashPadSeries.com and her projects such as PinkLabel.tv that help establish and support emerging queer filmmakers.
Houston's other career highlights include appearing in the Human Sexuality textbook 4th edition, being honored with a PorYes Award from Europe's first Feminist Porn Awards, and being named the Feminist Porn Award's "Visionary" in recognition for having jump-started the queer porn movement.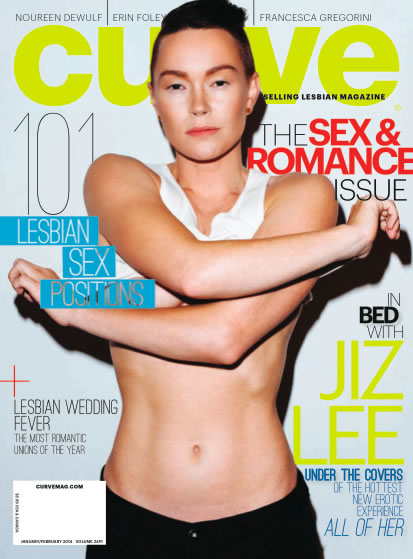 Curve Magazine Jan/Feb 2014: Sex & Romance
Curve Magazine's Jan/Feb 2014 Double-Issue of Sex & Romance (which features CrashPad star Jiz Lee on its cover), profiles Pink & White Director Shine Louise Houston on page 65 in "Viva the Queer Sex Revolution" showcasing thirty sexual trail-blazers who have shaped the way we view and have sex.
VIVA THE QUEER SEX REVOLUTION
Thirty sexual trailblazers who have shaped the way we view and have sex. By Cygnus Fogle, Merryn Johns, Mia Manns, Katherine Wright and Kristen Youngs.
Digital & Hardcopy Subscriptions available at curvemag.com.
For all press inquiries, please contact Jiz Lee at jiz@pinkwhite.biz. 
Follow @PinkWhite and @ShineLouise on Twitter.
About Pink & White Productions
Founded by Shine Louise Houston in 2005, Pink & White Productions is known for portraying authentic queer desire and fluidity of sexuality and gender in adult cinema. The company's featured films and projects have screened world-wide, and presented at academic institutions, most recently at Stanford University. Houston's work adds representation to queer sexualities, spanning communities of color, gender expression, sexual desire, body politics, BDSM and other marginalized experiences with strikingly beautiful cinematography, humor, and realism.
About Curve Magazine
Curve, the nation's best-selling lesbian magazine, spotlights all that is fresh, funny, exciting, controversial and cutting-edge in our community. Curve brings you the latest in lesbian-related celebrity interviews, news, politics, pop culture, style, travel, social issues and entertainment. Curve tackles the tough topics, like "Don't Ask, Don't Tell," same-sex marriage, breast cancer and the challenges facing queer youth. Plus, we profile women who are making a difference, such as Meshell Ndegeocello, Rosie O'Donnell, the Butchies, Ani DiFranco, Ellen DeGeneres and k.d. lang. After more than two decades of publishing, Curve achieved a level of prominence, and has been named Best Gay and Lesbian Publication by the Gay and Lesbian Alliance Against Defamation (GLAAD). Savvy, hip and intelligent, Curve is delivered to your door 10 times a year.
Tags: Pink and White Productions, Shine Louise Houston, Curve Magazine, Queer Sexuality, Lesbian, Feminist, Pornography, Queer Porn, Dyke Porn