Pink & White Featured in 'Man as Object' Art Show
Company Photographer Tristan Crane Showcases Beautifully Transgressive Images from HeavenlySpire.com
San Francisco, CA — (November 29th, 2011): Pink & White Productions, the San Francisco-based queer porn company directed by award-winning filmmaker Shine Louise Houston, is a porn house with an art bent.  company's work is featured in the art show "Man as Object: Reversing the Male Gaze".
The show's theme focuses on women artists looking at men and masculinity, and exhibits art which re-envisions gender, society, and the politics of exposure — a good fit for Pink & White Productions and company photographer, Tristan Crane.
Crane's photographs from the Pink & White Productions' newest website HeavenlySpire.com features models Quinn Valentine and James Darling, and are exhibited in the main gallery and printed catalog along side the work of other artists such as The Guerrilla Girls and Annie Sprinkle. The exhibition runs from November 4th through 30th, ending in a closing reception and artists' panel at SOMArts Cultural Center in San Francisco.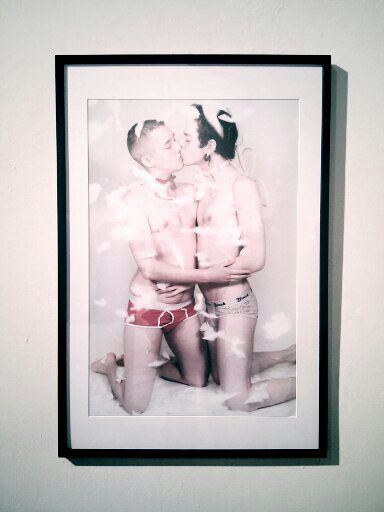 All Hung Up. Quinn Valentine & James Darling.Photo by Tristan Crane, HeavenlySpire.com.
For more images and information, please contact alliance@crashpadseries.com
About HeavenlySpire.com
HeavenlySpire.com is director Shine Louise Houston's personal project. Well known for her work in the lesbian and queer porn genres for her work with films such as "The Crash Pad" and the popular membership site CrashPadSeries.com, Shine has turned her gaze towards men in a site about masculine beauty and appreciation. In 2011, HeavenlySpire.com was awarded best website by the Feminist Porn Awards. It has recently re-launched with a mobile platform.
About Pink & White Productions
Founded by Shine Louise Houston in 2005, Pink & White Productions is known for portraying authentic queer desire and fluidity of sexuality and gender in adult cinema. The company's featured films and projects have screened world-wide, and presented at academic institutions, most recently at Stanford University. Houston has been honored at the PorYes Feminist Porn Awards in Berlin and was noted Toronto's Feminist Porn Awards' Visionary, as well as Curve Magazine's Sex Curator. Her work adds representation to queer sexualities, spanning communities of color, gender expression, sexual desire, body politics, BDSM and other marginalized experiences with strikingly beautiful cinematography, humor, and realism. Following the popular best-selling movie "The Crash Pad", the company's website CrashPadSeries.com portrays an illustrious San Francisco apartment where queers go to have the best sex of their lives. Houston's newest site, HeavenlySpire.com explores masculine sexuality in her signature style, and was awarded in 2011 by the Feminist Porn Awards. For more information about Shine Louise Houston and Pink & White Productions, visit PinkWhite.biz.
About Man as Object
Man as Object: Reversing the Gaze is an exhibition that re-envisions gender, society and the politics of exposure. With a gallery filled with men stripped naked, this body of work exposes women's cheeky, provocative and sometimes shocking commentaries on the opposite sex. The exhibition's contemporary scope encompasses all the ways that women view Man-as-Object, reversing the traditional view of male artists objectifying women. Its diverse perspectives on masculinity come from straight, transsexual, transgender, lesbian and multi-cultural artists through a spectrum of media, from paintings to sculpture, installations to performance, video to social media. The show's extensive collection of male adoration, male impersonation and male appendages may make the viewer squirm a little. But that is precisely the point. The more than 100 women artists in the exhibition unapologetically reveal how they really see men. Through this public display at SOMArts Cultural Center, the show's organizers aim to equalize the gaze between the sexes.
Tags: Tristan Crane, Heavenly Spire, Pink & White Productions, Photography, Art, SOMArts Cultural Center, Men, Masculinity, Queer Porn, Quinn Valentine, James Darling