FOR IMMEDIATE RELEASE:
FRAMELINE Festival Screening to Kick-off Film's Online Premiere
SAN FRANCISCO, California (May 24th, 2017) — Queer adult film company Pink and White Productions announces the release of SNAPSHOT, written and directed by Shine Louise Houston. The full-length feature will screen at the landmark FRAMELINE41 San Francisco International LGBTQ Film Festival, presenting the erotic suspense thriller with attending cast and crew at the city's historic Victoria Theater on Friday, June 23rd at 9:15pm. Following the screening, fans around the world will be able to watch SNAPSHOT online at the company's curated hub for independent adult films, PinkLabel.tv.
SNAPSHOT pays homage to Houston's early film influences, referencing Hitchcock's Rear Window and Antonioni's Blow Up. Shot on location in San Francisco and drawing from Houston's own life experience, the feature offers a unique coming of age story wrapped in a murder mystery. SNAPSHOT is led by a cast of queer people of color, featuring break-out performances by lead actors Beretta James and Chocolate Chip, with enthralling performances from supporting actors Verta, Nerine Mechanique, Lyric Seal, and Ned Would as "The Man." Noteworthy cameos include sex culture icons Dr. Carol Queen and Good Vibrations' Jack Strano, of SIR Productions fame.
A cast and crew of over 50 are anticipated to attend the FRAMELINE41 screening, a climactic moment following previous screenings following the Berlin PornFilmFestival, British Film Institute's FLARE LGBT Film Festival, Cinekink NYC (awarded "Best Feature Narrative Film"), Hacker Porn Festival in Rome, in a special presentation at San Francisco State University, and the Toronto International Porn Festival (Formerly known as the Feminist Porn Awards) where it won "MOVIE OF THE YEAR." Future highlights include a spot on the BBC's Queer Britain in an interview with the director, and screenings at #DuckieFamily in London, Stoya's curated Wonderlust event in Helsinki, the San Francisco Queer Women of Color Film Festival, a double-feature at Oakland's Feelmore Adult Art Gallery, and a special presentation at CatalystCon, among others.
What They're Saying
"If great suspense cinema went all-in with lesbian sex, you'd get SNAPSHOT."
– Susie Bright
"It'll give you goosebumps, make you smile, and if you're like me, a bit of both while shouting 'viva la revolucion!' Also, in San Francisco style, SNAPSHOT is about a murder."
– Violet Blue
"An erotic suspense thriller unlike any film noir you've ever seen."
– Huffington Post
"Breaking down walls."
– Autostraddle
Promo Materials
Trailer: Embed via YouTube or Vimeo; NSFW trailer available upon request.
Photos: Click for images.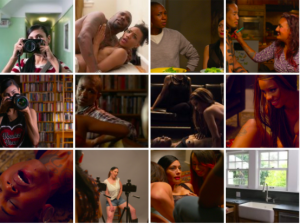 Credit: Pink and White Productions
Pink and White may play a big role in community-funded porn. SNAPSHOT is the company's first independently produced film, made possible by over 390 backers on IndieGoGo with support from women of color community leaders Cheryl Dunye, Madeline Lim, Dr. Mireille Miller-Young, Nenna Joiner, and Tobi Hill-Meyer. Company sponsors included Good Vibrations, and locations at Wicked Grounds and the Center for Sex & Culture. The crowdfunding campaign garnered interviews and spotlights in publications like Cosmopolitan Magazine, PBS MediaShift, AFROPUNK, Autostraddle, and Huffington Post. Most importantly for Houston, crowdfunding enabled her to secure the budget to produce her film independently with control over casting and distribution. "One reason I think crowdfunding is going to be good for us is we get to keep company values and creative control," says Houston. After SNAPSHOT is released, she'll return to crowdfunding her next major project.
Follow online #SNAPSHOTtheFILM. Tickets go on sale to the general public June 2nd.
Learn more about SNAPSHOT at https://www.pinklabel.tv/on-demand/film/snapshot/. For information about Frameline41, visit frameline.org.
Keywords: SNAPSHOT, Shine Louise Houston, Pink and White Productions, Beretta James, Chocolate Chip, San Francisco, LGBTQ, film screenings, queer porn, people of color, Frameline, Frameline41, FL41, erotic film, crowdfunding
Press Contact:
Jiz Lee, info@pinkwhite.biz
XXX