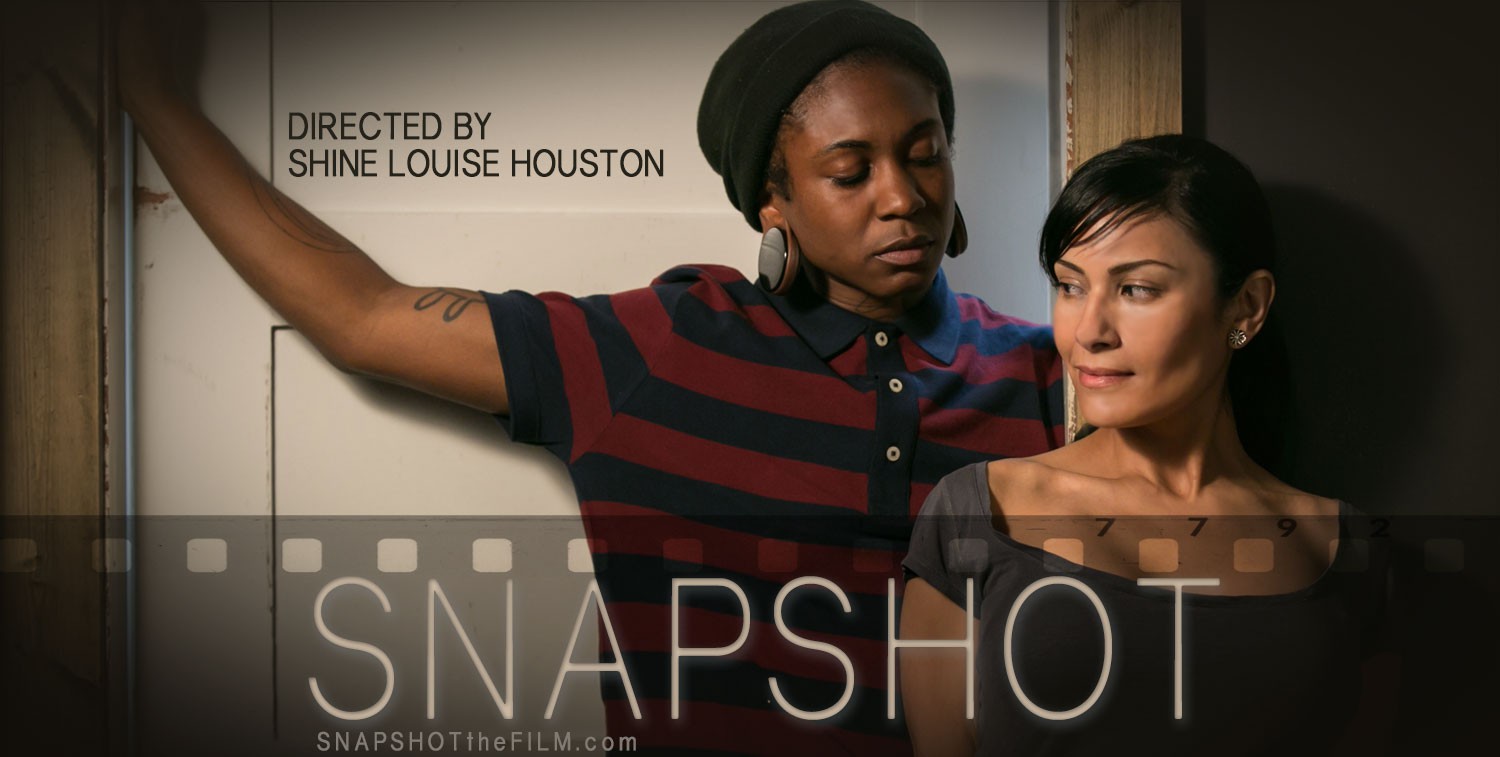 San Francisco, CA (May 20th) — Queer Black filmmaker Shine Louise Houston of Pink & White Productions has launched a crowdfunding campaign to produce SNAPSHOT, an erotic "porn noir" suspense thriller staring women of color.
SNAPSHOT is Houston's fifth feature, but it will be the first to be produced through crowdfunding. The move gives Houston creative control necessary for diverse casting and the ability to work without a deadline for a polished final product. Houston's pornographic aesthetics draw heavily from Radley Metzger. As a queer love story, the film doesn't shy away from portraying explicit sexuality, a key element of her storytelling. Pink & White Productions films show the mechanics of intimate sexuality, and uncensored portrayals of genuine pleasure, which the company is best known for.
SNAPSHOT is also a coming out story. "Growing up queer, I was always frustrated with the coming out stories I was hearing and seeing," said Houston. "There were so few queers of color, the representations' idea of 'sexy' wasn't mine, narratives were formulaic and stereotypical, and the production quality left a lot to be desired. SNAPSHOT is an attempt to provide a different coming out narrative in a tone that reflects some of my most profound filmic influences."
Campaign backers can look forward to perks such as gift certificates from Good Vibrations and hand-blown glass sex toys from Fucking Sculptures. The company invites supporters to celebrate Pink & White's 10th Anniversary Party on August 7th at the Center for Sex & Culture. Other rewards include film cameos, photography books with images from production, and producer acknowledgement in the film credits.
To donate to the campaign, click here: http://igg.me/at/snapshotthefilm
Learn more about SNAPSHOT at https://www.pinklabel.tv/on-demand/film/snapshot/. Press inquiries can contact Pink & White' Marketing Director Jiz Lee at jiz (at) pinkwhite (daht) biz. Follow the campaign on Twitter #SNAPSHOTtheFILM.
Houston's campaign is supported by community leaders, fellow filmmakers, and experts in Black and queer studies: Dr. Mireille Miller-Young, author of A Taste For Black Sugar: Black Women in Pornography, iconic Black lesbian filmmaker Cheryl Dunye, pornographer, educator and trans activist Tobi Hill-Meyer, Nenna Joiner, filmmaker and owner of Oakland adult boutique, Feelmore510, and Madeleine Lim, Executive Director of the Queer Women of Color Media Arts Project.
About Shine Louise Houston
As the founding director of Pink & White Productions (CrashPadSeries.com, PinkLabel.tv), Shine Louise Houston has always had unique vision. Graduating from San Francisco Arts Institute with a Bachelors in Fine Art Film, her works have become the new gold standard of adult cinema. During a five year position at the women-owned, sex toy purveyor Good Vibrations, Shine recognized an underserved demand for an alternative to mainstream pornography, and began to create well-crafted queer made porn. Shine's films have been recognized among the next big wave of women produced porn and have been internationally screened from Amsterdam to New Zealand.
About Pink & White Productions
Pink & White Productions creates adult entertainment that exposes the complexities of queer sexual desire. Taking inspiration from many different sources, Pink & White is dedicated to producing sexy and exciting images that reflect today's blurred gender lines and fluid sexualities.
XXX