PinkLabel.TV Partners with Folsom Street Fair's Virtual Festival
Curates Kinky Adult Films Online as 2020 Community Scene Partner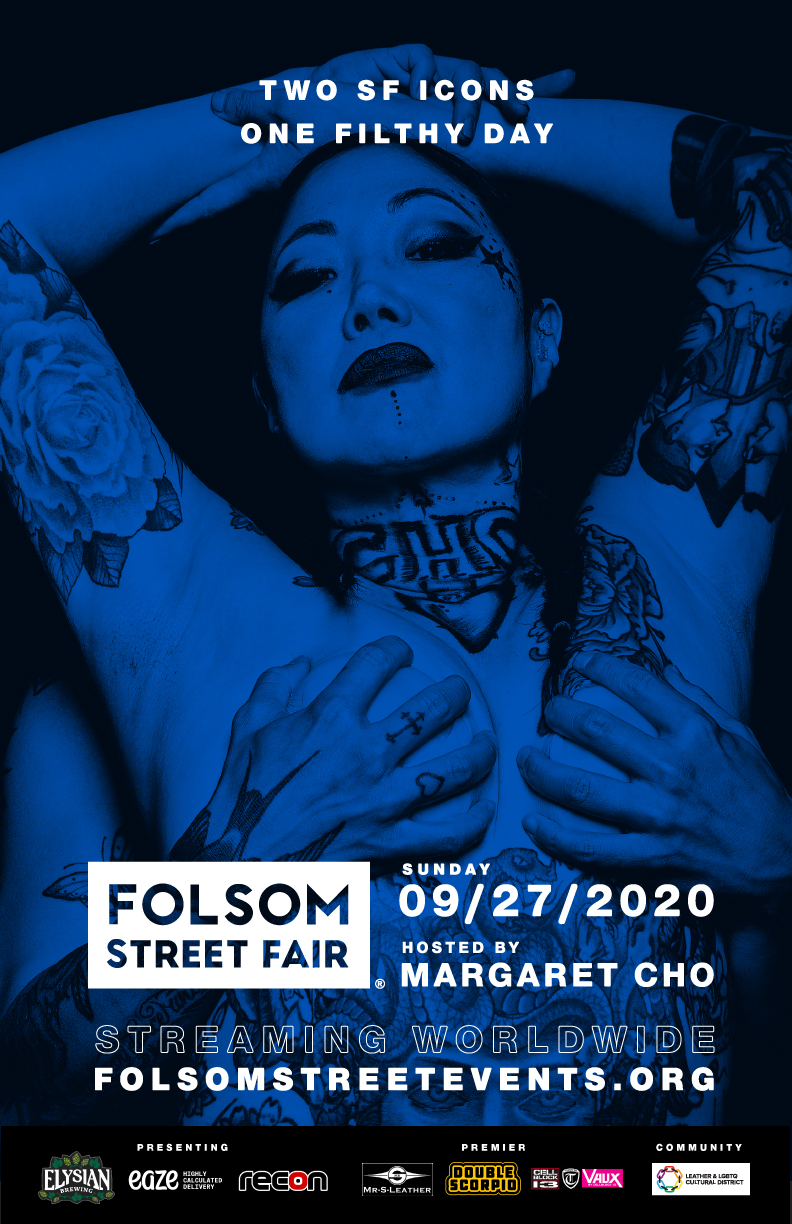 For Immediate Release:
SAN FRANCISCO, California, U.S.A. (Sept 21st, 2020) — Pink and White Productions announces its partnership with Folsom Street Events, providing an extensive selection of BDSM-themed adult films through its streaming platform PinkLabel.TV to online attendees of the popular Folsom Street Fair, hosted by Margaret Cho on Sunday, September 27th, 2020.
An array of BDSM and fetish films spanning the 1970's through the present have been curated to provide adult entertainment and education in keeping with the popular leather and fetish event. With films appealing to porn history scholars to kinky voyeurs alike, there's something for everyone. Each title is available to rent a la carte, or to enjoy as a member along with unlimited access to hundreds of independent adult films. Viewers are invited to discover something new as they browse PinkLabel.TV, informally dubbed a "Criterion Collection" of adult film.
The collection includes heavy hitters such as renown fetish filmmaker Maria Beatty, Academy of SM Arts educator Cleo DuBois, BDSM educator Eve Minax, Michelle Handelman's documentary Bloodsisters, and International Ms Bootblack 2008 title-holder Q Tip. Glimpse at San Francisco gay life in the 70's with Arthur J. Bressan Jr.'s Forbidden Letters and Peter Berlin in Nights in Black Leather, both depicting iconic San Francisco landmarks. Contemporary works include AORTA Films, Pandora Blake, Foxhouse, and titles like Bonus Hole Boys' Dore Alley Daddy, Tribute by Max Disgrace, Toni Karat's FagDyke Cruising, and new release INSTINCT a queer art porn exploring cruising across gender expressions, as well as many, many more.
The world's largest leather and fetish event, Folsom Street Events board of directors and staff announced in April plans for a virtual worldwide festival in response to COVID-19. Interim Executive Director Angel Adeyoha commented, "​We feel it is the ethical and the responsible choice to make before fair planning and production proceeds any further.​ The safety and wellbeing of our attendees and community members are our top priority. It was a hard decision to cancel our in-person events this year, but we hold ourselves and our events to the highest safety standards. Our team of staff and board members take their responsibility to our communities incredibly seriously."
"I know the cancellation of in-person celebrations of the Folsom Street Fair and Up Your Alley is disappointing, but it is best for the health and safety of everyone involved," said Mayor London N. Breed in a statement to the SF Examiner. "I want to thank Folsom Street Events for their careful consideration of the current situation, and for making a decision that is in the best interest of public health but still allows people to celebrate virtually."
Since its early roots in the AIDS crisis, Folsom Street Events has observed a standard of care for LGBTQ2S+ community members. The decision to go online upholds that legacy by choosing to gather virtually until it is once again safe to proudly take to the streets. Festival attendees can celebrate the historic fair by staying socially connected while physically distant.
2020 marks the 37th year of Folsom Street Fair. Combined, FSE's Folsom Street Fair and Dore Alley events draw hundreds of thousands of fairgoers from around the globe — with Folsom Street Fair being the largest leather festival of its kind in the world — to the SoMa district, generating more than $200 million in local businesses and doubling as fundraising funnels for San Francisco-based nonprofits.
Festival organizers announce the digital festival with the features of the Folsom Street Fair that you know and love, directly into your home. Featuring DJs, live music, shopping, and education with our exhibitors, BDSM demos, adult films, and more. Join fetish enthusiasts from around the world during the groundbreaking virtual Folsom Street Fair, where you can champion and celebrate sex-positivity and sense of community — safely from behind a screen.
Folsom Street Fair goes virtual! Hosted by Margaret Cho!
STREAMING WORLDWIDE
Sunday, September 27, 2020 11AM – 6PM – www.folsomstreetfair.org
To donate text Folsom2020 to 345345
For more information, see http://www.folsomstreetfair.org/.
Follow the festival on Twitter at @FolsomStEvents and Instagram at @folsomstreetevents for updates. Follow PinkLabel.TV at @PinkLabelTV on Twitter and Instagram.
About Folsom Street Events
Folsom Street Events is a 501(c)3 non-profit organization. Our mission is to create world-class leather and fetish events that unite the alternative sexuality communities with safe, consent-based venues for self-expression, art and entertainment. Our events raise funds to sustain SF Bay Area-based charities. We value sexual freedom, diversity, and volunteerism. All of our events are adult-oriented, sex-positive events. Since our founding in 1984, FSE has given over $7 million dollars in proceeds to local nonprofit LGBTQ2S+ and allied organizations.
About Pink and White Productions INC
Founded by Shine Louise Houston in 2005, Pink and White Productions creates adult entertainment that exposes the complexities of queer sexual desire. Taking inspiration from many different sources, Pink and White is dedicated to producing sexy and exciting images that reflect today's blurred gender lines and fluid sexualities.
XXX
Tags: Folsom Street Fair, San Francisco, PinkLabel.TV, Pink and White Productions, Adult Film