Keyhole Sessions Joins Pink & White Productions' Fair-Trade VOD
San Francisco (April 16th) — Pink & White Productions is proud to add Toronto-based company Keyhole Sessions to its fair-trade video on demand hub, PinkLabel.tv. Directed by Sonya JF Barnett AKA The Madame, Keyhole Sessions marks its premiere with the 2014 Feminist Porn Awards' Sexiest Short Film "No Artificial Sweeteners" and The Keyhole Sessions' first Urban Peepshows: "Drips, Clicks, Squirts."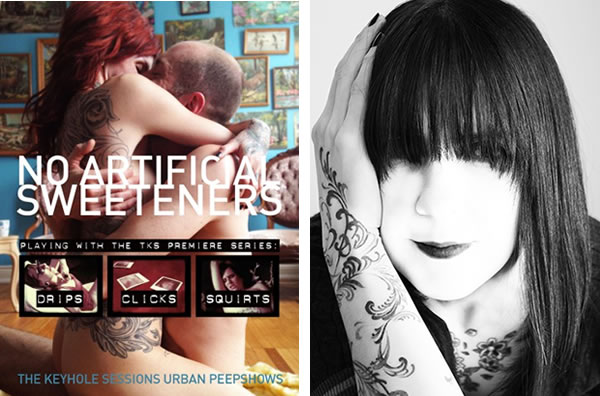 2014 Feminist Porn Awards' Sexiest Short Film, No Artificial Sweeteners, by The Madame.
The Keyhole Sessions recently ventured into film through the use of accessible smartphone video technologies. "No Artificial Sweeteners" was shot entirely on the iPhone 5. Along with Lust Cinema, Pink & White Productions will be among the first to offer video on demand distribution to the new producer via the company's fair-trade site: PinkLabel.tv.
"I can't express how excited I am that PinkLabel.tv is distributing my work," The Madame shares. "To be recognized early in my porn producing career with two Feminist Porn Awards, then dealing with a company I respect, for both its ethics and artists, is an honor. I have been following these artists for some time, and to now have my work alongside their's is incredibly inspiring. I'm a firm proponent of celebrating sexuality, and Pink & White Productions certainly does that in spades."
A two-time recipient of the Feminist Porn Awards, Keyhole Sessions states: "We want to show that adult cinema's boundaries can be pushed not with how much a woman's body can endure, but how much pleasure she can feel and share. Sex isn't just about the happy ending, it's about the whole journey."
Watch Keyhole Sessions on PinkLabel.tv: http://www.pinklabel.tv/on-demand/?scene=no-artificial-sweeteners-and-drips-clicks-squirts
Visit TheKeyholeSessions.com and follow @KeyholeSessions on Twitter. For press inquiries, high res images, and affiliate information, contact Jiz Lee at jiz@pinkwhite.biz.
Tags: Pink and White Productions, PinkLabel.tv, Keyhole Sessions, The Madame, No Artificial Sweeteners, Drips Clicks Squirts, Feminist Porn Awards, Ethical Porn, Women, Female Sexuality, Pornography, Video on Demand