Share. Authority. Marit Östberg's Disorder Desire
CYBERNET/San Francisco (November 25th) — Pink & White Productions is proud to add European queer pornographer Marit Östberg to it's fair-trade, video on demand hub, PinkLabel.tv.
Östberg's film-porn debuted as part of the pivotal Swedish porn collection Dirty Diaries by producer MiaEngberg. Now residing in Berlin, Germany, Östberg has become a leader in Europe's queer feminist porn scene, directing and acting in work that pushes ideas of who and what porn might be for, and inspiring a new wave of radical pornographers.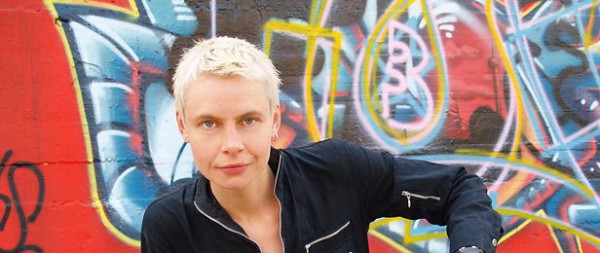 Östberg's activist and journalist background makes her an important voice, discussing sexual politics in Swedish media for the last decade.
Her company Disorder Desire Productions has produced the short films AUTHORITY (staring Max and Bock) and SHARE (Blond Stud, Mad Kate, Pau Pappel). Both films have screened at Europe's most pronounced alternative porn festival, PornFilmFestival Berlin.
Östberg also makes music videos and is working as a VJ, producing images in close collaboration with musicians. Most recently, she directed Full of Fire by The Knife. With porn, she sees the medium as a creative way of working with sexual politics, and as a means to expand the possibilities of being in the world.
AUTHORITY
Sex is a dirty game, it's a threat, and a promise. It's to be inside the limits of another person. Authority is a love letter to all proud, shameless, queer, horny bodies. It is a film for those who paint their dreams all over the city, and who turn their dreams into reality. Authority is a wet dream where the disobedient fuck the power, in the ass.
SHARE
She's longing for her lover. Pictures come to her mind. She sees her lover's lover. She wants to be where they are. She walks out of her dream. She walks out of her apartment. She knows where they are. She has the key. Sharing is a utopian fairy tale and a queer reality.
Pink & White Affiliates can link to AUTHORITY, SHARE and other PinkLabel films for competitive commission. See Pink & White Affiliate Program for more information. The director has expressed that a limited number of DVDs are also available for reviewers.
For all inquiries, please contact Jiz Lee at jiz@pinkwhite.biz. 
About Pink & White Productions
Founded by Shine Louise Houston in 2005, Pink & White Productions is known for portraying authentic queer desire and fluidity of sexuality and gender in adult cinema. The company's featured films and projects have screened world-wide, and presented at academic institutions, most recently at Stanford University. Houston's work adds representation to queer sexualities, spanning communities of color, gender expression, sexual desire, body politics, BDSM and other marginalized experiences with strikingly beautiful cinematography, humor, and realism.
Tags: Pink and White Productions, PinkLabel, Shine Louise Houston, Marit Östberg, Disorder Desire Productions, Authority, Share, Dirty Diaries, Lesbian, Sexuality, Queer, Feminist, Pornography, Berlin,Bock, Max, Blond Stud, Mad Kate, Pau Pappel, Video on Demand