Trans and Cisgender Men Come Together in Hardcore Gay Porn
SAN FRANCISCO (May 19th) — Pink & White Productions is proud to introduce the new FTM gay porn company BONUS HOLE BOYS with a studio premier on PinkLabel.tv, its fair-trade video on demand hub for indie and emerging adult filmmakers.
Inspired by 70's gay porn and iconic homoerotic imagery, the new company pairs trans and cisgender men. (Cisgender or "cis" refers to a person who identifies as the gender they were assigned at birth.) Following in the footsteps of trans male porn by directors such as Buck Angel, Christopher Lee, and James Darling, the films by BONUS HOLE BOYS co-creators Cyd St. Vincent and Ex Libris expand the diverse world of trans masculine sexuality and queer adult cinema.
The idea of BONUS HOLE BOYS was originally conceived of with transsexual male porn performer Billy Castro, who worked with Libris for years behind the scenes of the mainstream porn industry while he performed in queer porn (Reel Queer Productions, CrashPad Series, Heavenly Spire). This background seeded a natural progression for the pair to want to put queer production ethics and performers into a mainstream gay porn menagerie.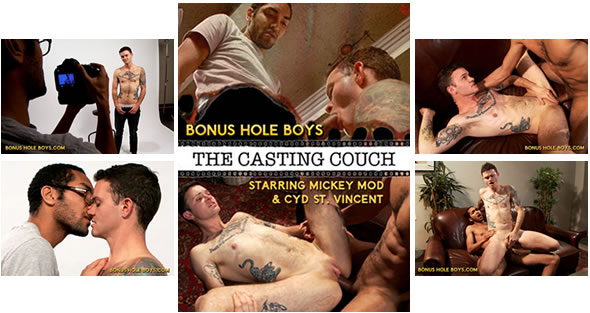 BONUS HOLE BOYS premiers with their first feature, The Casting Couch, staring Mickey Mod and Cyd St. Vincent himself. The 47 minute film includes coercion role-play, and hardcore action with double penetration of anal sex while "bonus hole" fisting.
Future releases from BONUS HOLE BOYS will feature James Darling (FTM Fuckers) in a Daddy/Boy scene with Allen Silver; Gino Genet with Connor Maguire in a public sex cruising scene; and a frat boy hazing "Ookie Cookie" scene staring Sebastian Keys (Kink Men), Cyd St. Vincent, Kipp Slingers, and Christian Wilde.
"Cyd St. Vincent is a brilliant performer and pervert and I couldn't ask for a better business partner or source of inspiration," says Libris. "Cyd and I are both fans of 70's gay porn, and a lot of the way that we shoot is based on trying to capture that aesthetic of nasty gay sex with a camaraderie present between performers, that is especially found in, for example, Joe Gage's films. That love for vintage gay porn in combination the emergence of trans mens bodies into the collective sexual imagination through the queer porn industry's growth created the space for BONUS HOLE BOYS to exist."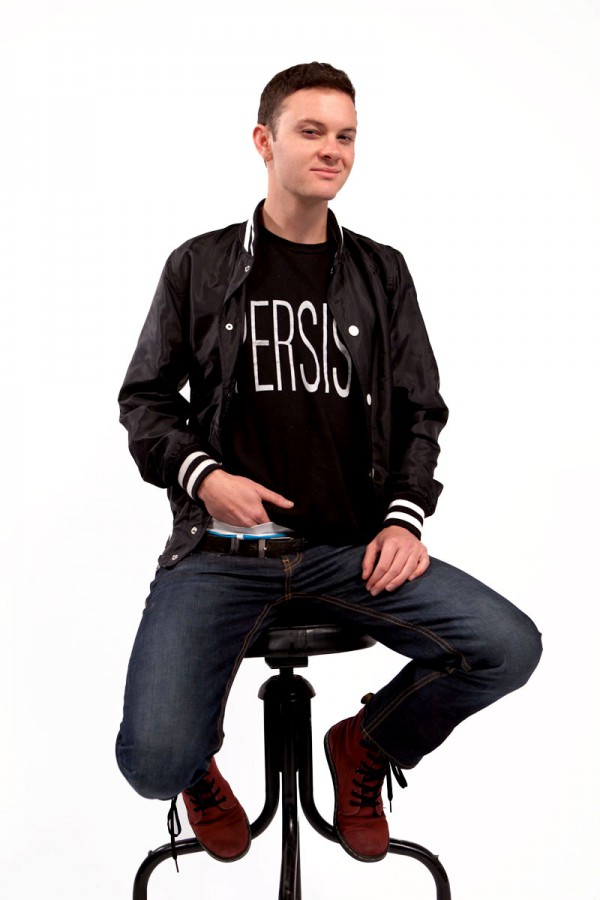 "I, for one, want to fuck cis guys," explains St. Vincent. "It was really difficult to do when there was little representation of what that looked like. Buck Angel was paving the way, but since I'm not a cigar smoking cowboy, I didn't have many models of what gay sex would look like between me and a cis guy. There is a huge hunger for these images, we get tons of messages from trans guys and cis guys who are so excited for a straight up gay porn company that shows FTM (female-to-male) bodies."
The pair hopes that cisgender men and trans men who are interested in sleeping together will enjoy BONUS HOLE BOYS as an informative elaboration on their own fantasies and will experience some destigmatization of their desires by watchingperformer interviews. Creating porn based on the idea that trans men should be an uncomplicated part of gay male sexuality, their content pushes the understanding of what gay sex is, to a point where FTM porn is no longer considered niche or a fetish.
BONUS HOLE BOYS is deeply interested in creating a welcoming environment for performers, both cis and trans, to work in. As a queer run porn company, it seeks to provide a safe space for models to explore their fantasies with each other and have explosive, hot sex. By joining forces with digital distribution through Pink & White Productions, it is primed to launch with a strong start.
"PinkLabel.tv really levels the playing field for porn start-ups like BONUS HOLE BOYS," says Ex Libris. "We are creative perverts first and foremost, so we wanted to concentrate on shooting the FTM gay porn of our dreams with trans and cis male models. Selling our work on PinkLabel.tv gives us the flexibility to do that without having to locate massive start-up funds and shoot on a weekly update schedule for a subscription."
Watch BONUS HOLE BOYS on PinkLabel.tv: http://www.pinklabel.tv/on-demand/?scene=the-casting-couch-mickey-mod-cyd-st-vincent

Follow Cyd St. Vincent and BONUS HOLE BOYS on Twitter (@BONUSHOLEBOYS and @CydStVincent) and Tumblr (BonusHoleBoys.Tumblr.com and FTMfags.tumblr.com). For press inquiries including interviews, images, and affiliate information, please contact Pink & White's Marketing Director Jiz Lee at jiz@pinkwhite.biz.
Tags: Pink and White Productions, PinkLabel.tv, Bonus Hole Boys, Cyd St. Vincent, Ex Libris, Trans Porn, FTM Porn, Queer Porn, Gay Porn, Pornography, Video on Demand