Center for Sexual Pleasure & Health Hosts Queer Porn Night
RHODE ISLAND (November 13th) — Pink & White Productions' work will screen at the Center for Sexual Pleasure & Health in Rhode Island. Selections include CrashPad Series' 100th Episode staring Nina Hartley & Jiz Lee, and two short films from Shine Louise Houston's masculine appreciation project Heavenly Spire: a solo by trans male heartthrob Billy Castro, and a cis/trans pairing of lovers Cyd Loverboy & Xavier.

Images from Cyd Loverboy & Xavier, Billy Castro, and CrashPad Series with Nina Hartley & Jiz Lee.
The Center for Sexual Pleasure & Health and its staff work to fight sexual shame and misinformation, but wholeheartedly believe that process shouldn't be a dull one. Enter "Queer Porn Night" — an evening for mingling, snacking, and discussion as participants view a selection of porn clips by and for queer people. Officially being put on by The Center for Sexual Pleasure & Health and the creators of Providence's Queer Salon, this night of cozy entertainment aims to celebrate various forms of queer erotic expression and expand people's conceptions of what porn can be.
Aida Manduley, Programming and Development Coordinator for The CSPH, notes that "by featuring diverse, queer bodies and a variety of scenes from independent companies and directors, this event can more accurately represent the wide array of desire and identities in LGBTQ communities, which are sometimes in direct opposition to the tired scripts in a lot of mainstream porn." In curating a selection of videos, the team paid attention to ensure that films didn't just all end up showing "one" idea of what a queer person or sexuality could look like, and instead intentionally showcased more racial, body, and gender diversity.
QUEER PORN NIGHT

Saturday, November 16th, 2013
7:30pm to 10pm

The CSPH – The Grant Building
250 Main Street
Pawtucket, Rhode Island

Suggested donation of $5, no one turned away for lack of funds.

Popcorn, BOYB, over 18yrs old only.
Free safer sex supplies and a free raffle entry!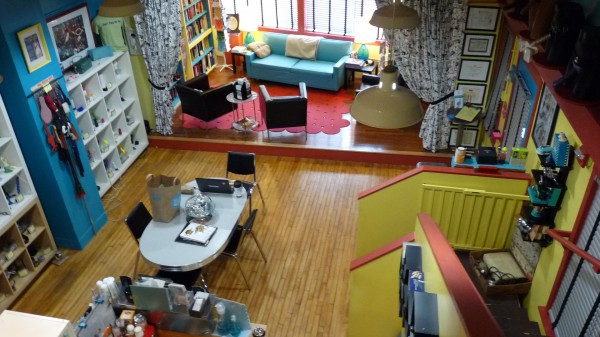 The Center for Sexual Health & Pleasure will host Queer Porn Night, Saturday November 16th.
About the Center for Sexual Pleasure & Health
The Center for Sexual Pleasure and Health is designed to provide adults with a safe, physical space to learn about sexual pleasure, health, and advocacy issues. We are housed in The Grant Building, located in historic downtown Pawtucket (home of the Industrial Revolution and Family Guy). The Grant Building is a historic landmark that has been renovated into a multi-use artist and professional work space. With warm yet quirkily decorated common areas, ease of access for physically limited individuals, indoor free parking, and an adopted kitty that greets you at the door, The Grant Building provides all the comfort and privacy a sexuality resource center needs.
About Pink & White Productions
Founded by Shine Louise Houston in 2005, Pink & White Productions is known for portraying authentic queer desire and fluidity of sexuality and gender in adult cinema. The company's featured films and projects have screened world-wide, and presented at academic institutions, most recently at Stanford University. Houston's work adds representation to queer sexualities, spanning communities of color, gender expression, sexual desire, body politics, BDSM and other marginalized experiences with strikingly beautiful cinematography, humor, and realism.
Tags: Pink and White Producitons, The Center for Sexual Health and Pleasure, Queer Salon, Providence, Rhode Island, Queer Porn, Sex Positive, Sexual Education, CrashPad Series, Heavenly Spire, Queer Sexuality, Events, Screenings