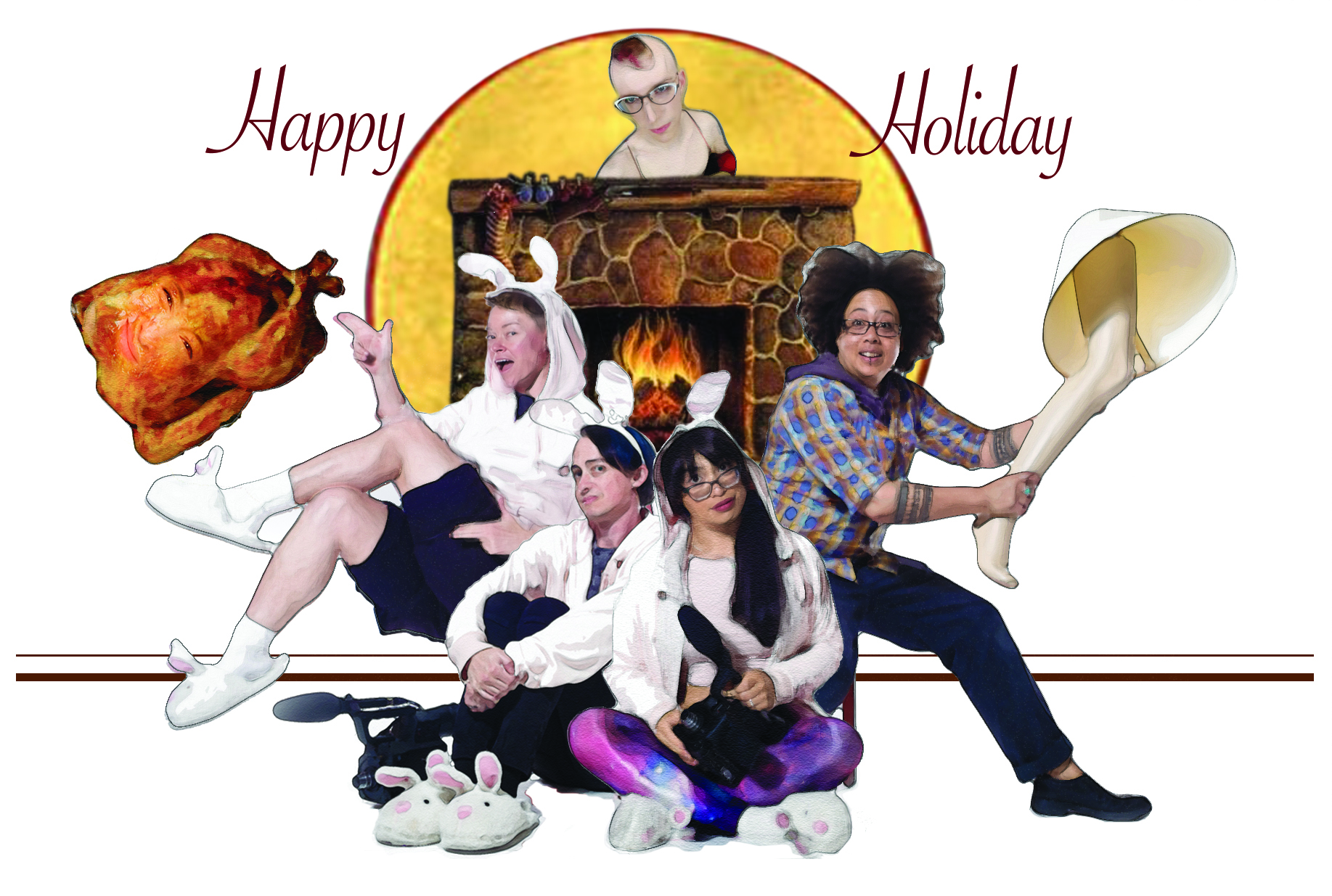 Happy Holidays from Shine Louise Houston and the gang at PW Inc! As we reflect on the past year, we're reminded of the wonderful, talented cast and crew we've had the pleasure to work alongside to create our projects. Here's our top 10 highlights from 2017:
1. The obvious big one… SNAPSHOT!
Cast and crew celebrated the official online release of SNAPSHOT at Frameline San Francisco International LGBTQ Film Festival. It also screened at the British Film Institute, at the Queer Women of Color Film Festival, and at festivals across the world in Brussels, Taiwan, Rome, Helsinki, and more. Our film won Toronto International Porn Film Festival's "Movie of the Year," Cinekink's "Best Narrative Feature," and received multiple XBiz Award nominations. Congrats to cast and crew, and thanks to over 390 backers who helped us create a independently-produced erotic thriller starring queer women of color.
SNAPSHOT wasn't the only movie we released. We also produced Shine's new film Writing in Bed, starring Ingrid Mouth and Tommy Pistol. Premiering at the PornFilmFestival Berlin, Tommy's performance has been nominated for 2018 XBiz Award's Best Actor – Comedy.
CrashPadSeries.com is now on its 254th episode! 2017 welcomed 48 queer and trans performers in a total of 24 new episodes, each transcribed by a team of volunteers. Shine released a compilation of her favorite episodes in CrashPad Volume 8: Sex Magic. CrashPad was honored with XBiz Awards' "Specialty Site of the Year" and select clips screened at the Congress of the World Association for Sexual Health, the Sex Worker Film Fest Marathon, and the Center for Research and Education on Gender and Sexuality.
We posted articles to debunk the 'fake nail' criticism in lesbian/femme porn, created a "soft core" guide for viewers who seek "vanilla" or "soft" sex styles, and gathered a #SexEdPornReviews team of sexual health educators, porn geeks, and sex bloggers. CrashPad continues to livestream its productions, so you can watch us as we film. Our next production date — and the first of 2018 — will be on Saturday, January 13th.
4. PinkLabel.TV is bigger and better than ever
In addition to PW's own releases, we also did a big relaunch of our curated indie adult film site PinkLabel.TV with additions like the "PinkLabel PLUS" membership feature, genres like EcoSex, Sci-Fi, Adult Documentaries, and resourceful articles like The Willingness to Pay for Porn and 5 Ways to Protect Your Adult Film from Porn Piracy. Our International Adult Film Calendar allow visitors to plan for submission deadlines and screenings.
This year the site added over 30 new studios, such as Foxclore Films and The Lust Garden, and over 100 new films, including Training of Poe, HEIMAT XXX, Enactone, The Breeding, You've Got Tail, and more.
To date, PinkLabel.TV now boasts over 680 films by over 80 filmmakers!
5. Crash Course Workshops
This year, Shine lead Crash Course workshops on Camera Work, Editing Concepts, and Adult Filmmaking 101. Look forward to new courses in 2018 with additional topics such as Lighting, Sound Design, Marketing, and more. Classes will be announced through our (free) Crash Course filmmaker newsletter.
6. Shine's Masterclasses and Keynotes
Shine was invited by Cheryl Dunye to lead a masterclass for "HerProcess: Women Filmmakers from Script to Screen," joining filmmakers Ellen Spiro and Barbara Hammer at San Francisco State University. In September, Shine participated in the Closing Keynote panel at CatalystCon in Los Angeles, where she also presented "SNAPSHOT: Reframing the Sexual Narrative" with a special lecture.
7. Community Support
We began the year with a fundraiser for ACLU, and throughout the year sponsored a number of events including the BUTCH VOICES Conference, ClimACTS Bounce Fundraiser, the Widener University Careers in Sexuality Conference, Williams College, Stonewall Dyke March NYC, The Network/LA Red, Queer Women of Color Media Arts Project, Dawn Serra's Explore More: Bodies Edition conference, and Europe's PorYes Awards. Thanks in part to our ad program, which channels funding to our community.
8. "Best of the Bay!"
Pink and White Productions was announced "Best Porn Studio" by San Francisco Bay Guardian's Best of the Bay!
9. Flipping the "straight porn" script with BED PARTY
Shine's second edition of her 'porno vérité' documentary-style couple series, Bed Party: Jack HammerXL and Nikki Darling, was recognized with an award at the Toronto International Porn Film Festival. Starring queer/pansexual performers, the expose challenges traditionally "straight" adult films depicting hardcore BDSM.
10. In the news!
We had quite a year of press alerts and moments in the spotlight. Some highlights include Shine and Jiz chatting about queer porn with the BBC in "Queer Britain" and a mention in TEEN VOGUE. We thank writers who included our websites and quotes in Glamour Magazine, Men's Health, COSMO, and give thanks even to Rashida Jones for mentioning Shine as one of her favorite pornographers in the New York Times. Thanks also to Brides Magazine, Alphr, Romper, The Conversation, A Practical Wedding, SavageLove, The Daily Dot, BOLD Italic, Refinery29, Dazed, and Buzzfeed.
Besides those press mentions and others, we were happy to be included on Ethical.porn. Shine also spoke on two fantastic podcasts: UNSCREWED by Jaclyn Friedman, and Terrific City with Melissa Gira Grant and Cheyenne Picardo. They're worth a listen! Every mention shares our work with new audiences, and we're thankful for that.
Coming Up Next…
We've got a lot to look forward to in 2018. It's incredible to realize how much our small company can accomplish. Next year, Shine will present her work at SXSW, and Pink and White Productions will release its upcoming short film, Birthday, starring Nenna Joiner and Barbary Rose. We'll continue to produce episodes of CrashPadSeries.com, and we'll release new films on PinkLabel.TV. The new year should see the official launch of our closed captioning project, as well as additional Crash Course workshops and articles. Phew. We've got a lot going on!
Explore our projects by subscribing to our pay sites and follow along on social media. Thank you for supporting our work and keeping us going. Wishing you the best to come in the year ahead.
~ PW, Inc