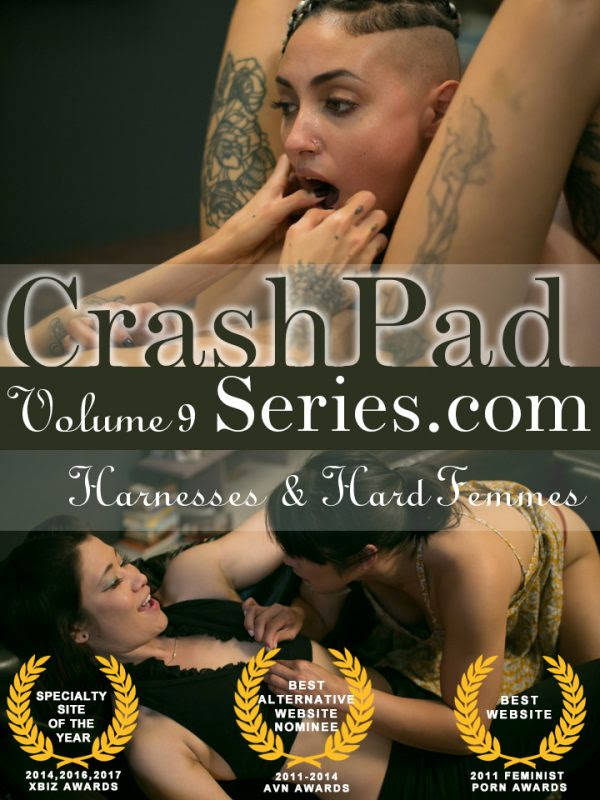 SAN FRANCISCO—Pink and White Productions announces the release of "CrashPad Series Volume 9: Harnesses and Hard Femmes," the VOD debut of five episodes from director Shine Louise Houston's award-winning queer porn website CrashPadSeries.com.
The collection presents Houston's favorite scenes from Seasons 31 thru 35 of the San Francisco-based site, which is known for its diverse, realistic portrayal of queer and trans sexuality — complete with all the tools and techniques.
CrashPad Series Volume 9 includes real couples and professional crushes in performer-scripted sex scenes. Mars the Prince makes an offering at the shrine of La Muxer Diosa. Jayogen and Mia Li are on a hot date. Mistress Kara gives Stefani Special tingles. ViVi Marie, Sal Marquez, and Luka Peona are a triple treat. Valentine makes Calico purr. So lube up, strap in, and prepare yourself for Volume 9!
The release is free to members of CrashPadSeries.com, or available streaming video-on-demand on PinkLabel.TV, the company's VOD hub for indie and emerging adult filmmakers.