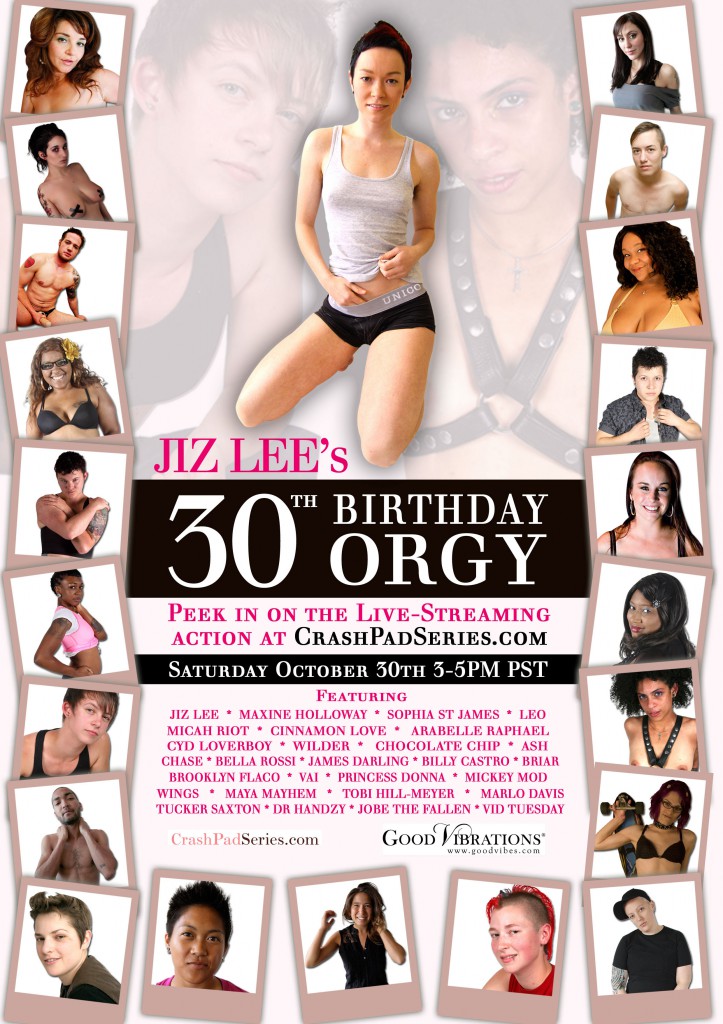 For Immediate Press and Promotion!
Jiz Lee's 3Oth Birthday Orgy
A Live-Streaming 30 Person Queer Porn Fuck Fest at CrashPadSeries.com October 30th
SAN FRANCISCO (October 25, 2010) — "So what do you have planned for your birthday?" a friend asks genderqueer porn performer Jiz Lee, star of "The Crash Pad", 2010 AVN Awards Nominated Best New Web Star, and featured model of over 30 award-winning adult films and websites. With a sly grin, the queer star replies: "I'm going to have a live-streaming 30 person orgy." Best birthday idea. Ever.
On Saturday October 30th 3-5PM PST, Jiz will celebrate the big 3-0 with a 2-hour long sex party live-streamed to Level 3 members of the queer porn website CrashPadSeries.com. And staying true to the theme, Jiz will be inviting 30 of their hottest friends from the queer porn industry to "fuck in" a new decade.
CrashPadSeries.com is based on director Shine Louise Houston's award-winning film "The Crash Pad", which presented Jiz's first on-camera performance with co-star Shawn (aka Syd Blakovich) and won Feminist Porn Awards' Best Dyke Sex Scene. The website continues from where the film left off, portraying a clandestine San Francisco apartment where a voyeuristic landlord (played by Houston herself) supplies keys to the pad's pleasure-seeking occupants so that she can observe their sexual escapades through hidden cameras.
The site features a diverse cast of amateur and professional porn performers in a variety of pairings that transcend normative gender binaries and sexual orientations. The series has quickly become the top recommended site for audiences seeking high quality feminist porn and authentic queer sexual chemistry.
Hosted by birthday boi Jiz Lee, party guests include the site's favorite models and Jiz's friends: Princess Donna, Arabelle Raphael, Mickey Mod, Billy Castro, Sophia St. James, Maxine Holloway, Maya Mayhem, Tobi Hill-Meyer, Briar, Wilder, Wings, Micah Riot, Juliette Stray, 9, James Darling, Cyd Loverboy, Leo, Ash, Chase, Bella Rossi, Marlo Davis, Vid Tuesday, Chocolate Chip, Vai, Cinnamon, Brooklyn Flaco, Nenna, Tucker Saxon, Jobe the Fallen, Stealth Machine, Tina Horn and Roger Wood and many many many more.
CrashPadSeries.com Level 3 membership is $35/month and includes full access to the site's unique content which includes over 8,500 photos, streaming and downloads of over 170 videos and behind the scenes interviews, bloopers, and special events such as this.
Video footage captured from the event will be compiled as a special episode for those unable to make the live-streaming view date of Oct 30th. During the event, participants and viewers alike can share the celebration over twitter through the hash tag #crashpad and the site's twitter account @crashpadseries.
Safer sex supplies provided by San Francisco-based sex toy retailer Good Vibrations.
Crash Pad Series boasts a competitive Affiliate Program of 30% recurring commission for webmasters.
For more information visit CrashPadSeries.com, jizlee.com.