All of us at Pink and White Productions mourn the news of Jack HammerXL's passing. Jack lived his life out and proud as a kinky, Black, pansexual male porn performer and producer. He was a friend, role model, and mentor for many. Jack will not be forgotten, living on in the legacy he gifted through his films and in those whose lives he touched. We are lucky to have had the honor of working with him and our hearts go out to his friends, family, and colleagues.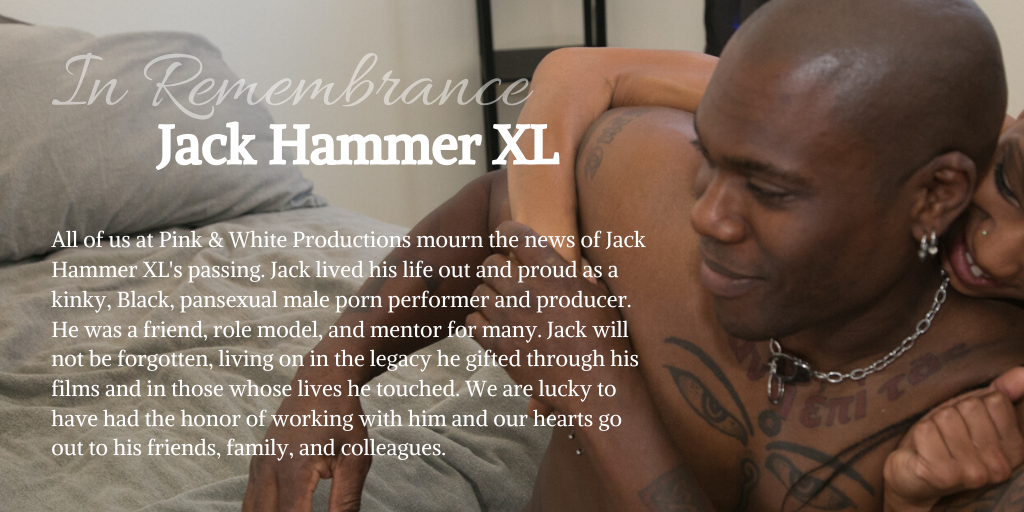 AVN Magazine wrote about his passing:
Longtime friend and colleague Maestro Stefanos worked with Hammer's family to prepare a statement about the 53-year-old's sudden passing:
"We here in the San Francisco Bay Area learned on Tuesday night, March 3, that Jack Hammer died at home unexpectedly of natural causes this weekend. The communities he has touched for over a decade have lost a strong, powerful and proud person.
"His family and friends here in his home community are saddened by Jack Hammer's absence and the world will be a lesser place without his kindness, compassion and strength. He touched more people than that of the adult industry and his memory will live on in the hearts of people and communities he touched. Please find comfort in knowing that Jack spoke fondly of his time in the adult industry and the great friends and family he made here.
"As a final thought, the cycles of fame and infamy are more fickle than the emotions of accompanying life and death. Please take heart in knowing that mourning the passing of the living into death is a natural process and one that can be selfish and filled with emotions by its nature. We implore you, mourn as you need and do not feel alone as there are many that miss Jack Hammer, but mourn without harming others or yourself.
"Mr. Jack Hammer, you are missed."
Read more here.