Happy New Year! Wishing you a shiny 2020 from Shine Louise Houston and the team at Pink and White Productions. As we reflect on the year, we're reminded of the many magical moments with all the talented cast and crew we've had the pleasure of working with. Here's our highlights.
But first, our most rawkin' holiday card yet!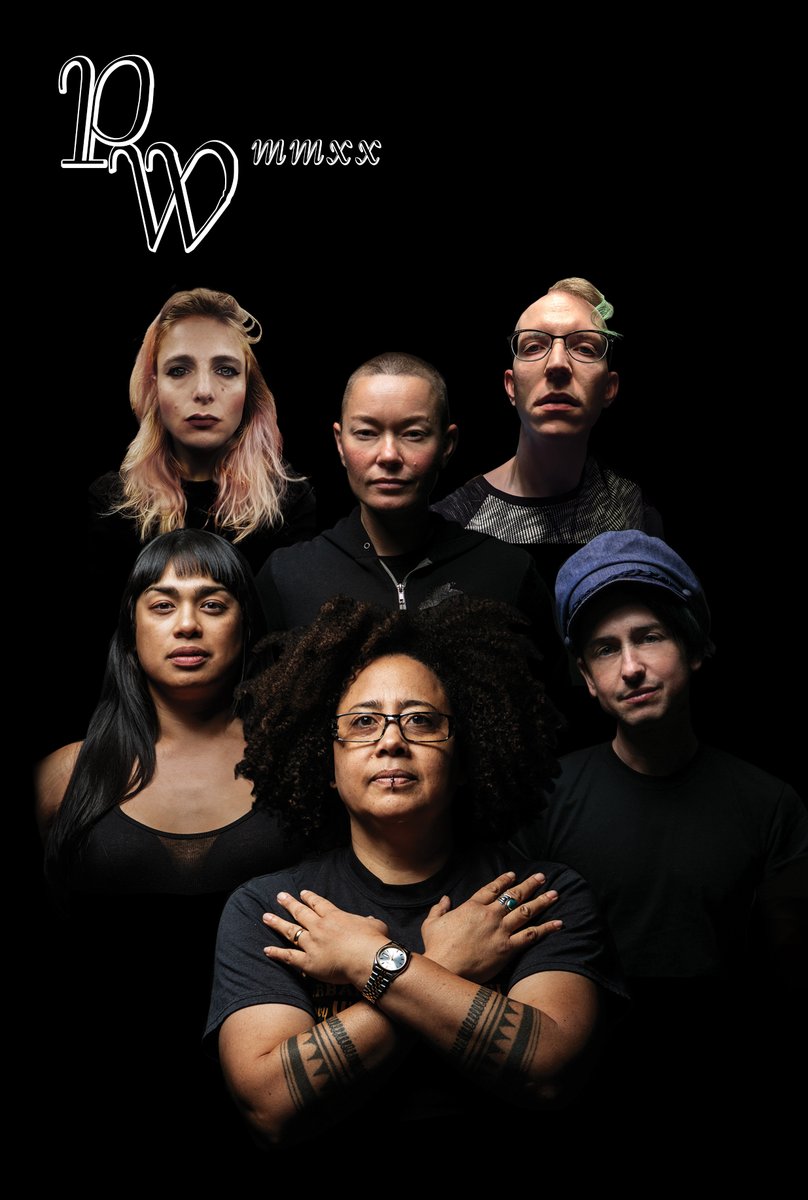 The Big 2019 Pink & White Company Recap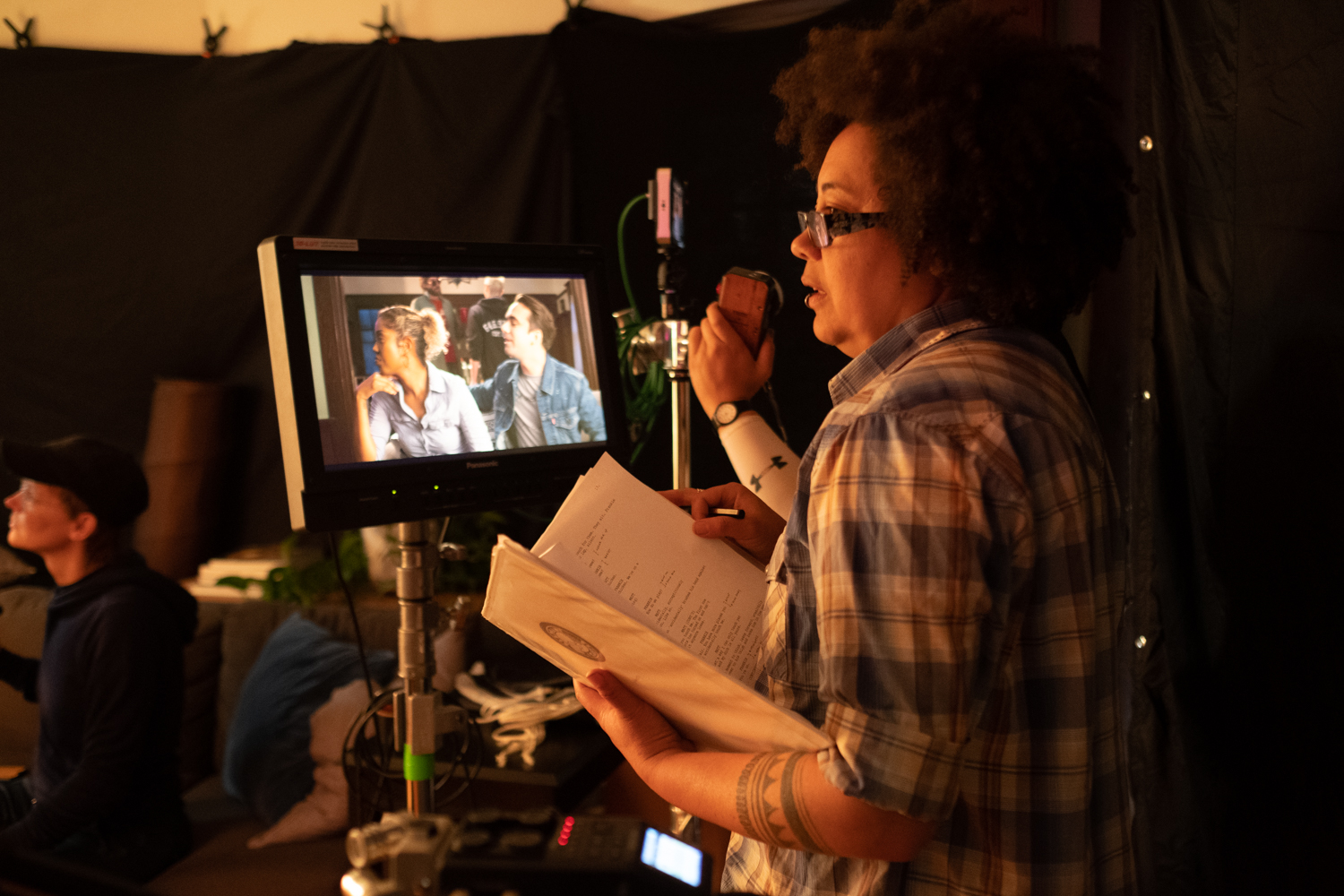 Chemistry Eases the Pain
Our year kicked off with a big fundraiser for a new movie! Chemistry Eases the Pain stars Lotus Lain, alongside Logan Pierce, Mona Wales, Nina Hartley, and more familiar faces. Written and directed by Shine Louise Houston, the film is a humorous and heartfelt look at bisexual identity and the struggle towards finding acceptance. (Coming in 2020!)
Filmed over the summer, Chemistry was made possible thanks to a successful crowdfunding campaign. Backers were both fans and fellow filmmakers, film festivals, sex toy companies, and more. Our leadership circle included Cheryl Dunye, Tobi Hill-Meyer, Linda Williams, Madeline Lim, Dr. Mireille Miller-Young, and Al Austin. (If you're curious about what it takes to crowdfund an adult film, we've published a blog post with tips.)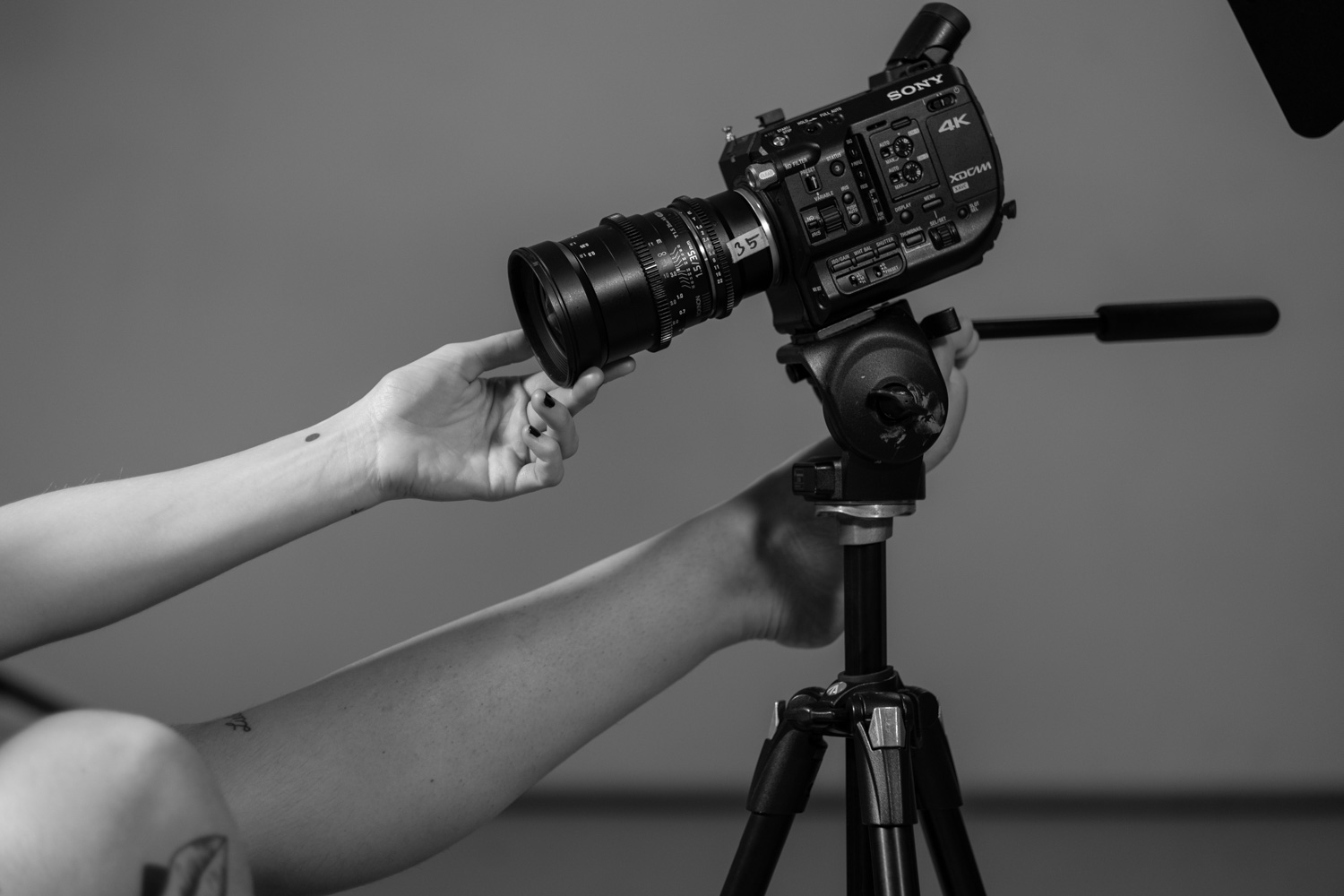 Camera and I
In addition to Chemistry, we also We also filmed a new … let's just say "sexperimental"… short film by Shine, Camera and I. It stars Jasko Fide and one very lucky camera. Coming soon to a theater and computer screen near you!

On Display
We're on the wall at the Leslie-Lohman Museum in New York!
"ON OUR BACKS: The Revolutionary Art of Queer Sex Work" is curated by Alexis Heller and offers a 15 year queer porn retrospective of film projects by Pink & White Productions director Shine Louise Houston.
The exhibition explores the history of queer sex work culture, and its intimate ties to art and activism. Coined by bisexual activist, Carol Leigh, aka. The Scarlot Harlot in 1978, 'sex work' is broadly defined as exchanging sex or erotic services for gain and connotes personal agency and politicized action. More than a portrait of life at the margins, what emerges in this exhibit is a demonstration of queer and transgender sex workers' deep community building, creative organizing, self-empowerment, identity/desire affirmation and healing and the use of pornography as a deft tool for queer and trans liberation.
The exhibition runs through January 19th, 2020.

A CrashPad PHOTOBOOK!?
After years of tossing around the idea of a photo project, we've finally taken the leap! Images from our ongoing queer porn web series have been published in academic books, hung on the walls of museums, and appeared on popular websites and in magazines and newspapers, but at long last, we are now publishing our own. CrashPad (circa 2019) spans a year of images and words from CrashPadSeries.com.
We're rushing to get the book out the door and will announce when it is available to order!
Screenings galore!
This year we saw screenings of our films Birthday, SNAPSHOT, Tickle Takedown, and CrashPad at festivals around the world, including the Best of Cinekink Tour, MIX Copenhagen, PornFilmFestival Berlin, Porny Days, Bangalore Queer Film Festival, Stockholm's Cinema Queers, and Italy's Inside Porn, con Ce l'ho Porno, al Ce l'ho Corto Film Festival. We also presented a special curated screening of films by and featuring masculine of center POC at the 10th Anniversary BUTCH VOICES Conference.

More stars at the CrashPad, and performer commission!
CrashPadSeries.com is bigger than ever! Can you believe we passed a 300 milestone (celebrating with James Darling and Janie Blade) and are now on our 303rd? CrashPad got some industry recognition with nominations for the 2019 Alt Porn Award and 2020 XBiz Awards "Best Female-Produced Website." In the meantime, we've continued to add closed captioning and have sought to 'fill the gap' between entertainment and education by inviting sex educators to review our episodes for sex tips and information with SexEdPornReviews. We've also updated our Sex Resource page.
And we recently added referral buttons directly on star pages to increase the ease and frequency with which performers earn commission revenue from their past scenes. 


PinkLabel.TV Keeps Growing… and now it has a PORN CLUB!
Our online streaming network PinkLabel.TV added 34 NEW STUDIOS with over 200 new films. The recent additions span Classics, Sex Ed, and beautiful groundbreaking  works by emerging filmmakers. It's a veritable who's who of indie adult filmmaking, and viewers can support and access movies under one affordable membership.
If you need a helping hand to get started, you're in luck… we've partnered with Feminist Porn Awards' originators GFH to create the Porn We Love viewers guide inspired by their years of championing queer and female-produced porn.
In conjunction with our classics collection, we launched a new adult film review series PORN CLUB inviting reviews to focus on a new set of films each month. We began with the classics: Radley Metzger, Wakefield Poole, Fatale Media, and Peter Berlin. Who's in store for 2020? Stay tuned to PinkLabel.TV!
We strive to lend support and resources to fellow filmmakers. Our International Adult Film Calendar and Newsletter shares submission deadlines and screenings, casting calls and other opportunities.
PinkLabel.TV was nominated "Female-Produced Site of the Year" for the 2020 XBiz Awards. To date, PinkLabel.TV now offers nearly 1000 films by over 100 filmmakers!
CrashCourse Workshops & Porn Studies
This year, Shine lead a CrashCourse workshop in Berlin on Camera Work, and was a guest lecturer at the University of California Santa Cruz, at UC Santa Barbara, and at San Diego State University.
Community Support
We sponsored and donated to a number of community events including the Queer Women of Color Media Arts Project, ClimACTS Fundraiser, the Widener University Careers in Sexuality Conference, Stonewall Dyke March NYC, Trans Action and Care Conference, "Queer Fatales" Burlesque show, The Network/LA Red, and more.
PinkLabel.tv Sponsored the BRIEFS Erotic Short Film Competition, and the PorYes Awards which honored Dr. Loree Erickson, Wayne Yung, Nan Kinney (of Fatale Media), Sadie Lune, Anna Brownfield, and Adina Pintilie with an award show, panels Sex, Work & Disability, and a guest lecture by Linda Williams!
In the Press
There was so much love in 2019! Vice UK chatted with Shine about creating PinkLabel.TV and Chemistry Eases the Pain, Verge explored crowdfunding adult film ventures, and Allure Magazine interviewed Shine's career applauding her efforts to bring diversity to adult filmmaking. We saw link love from Autostraddle's NSFW Sunday round-ups and publications like Daily Dot's coverage of trans porn. We were included in porn round-ups on COSMO, and Bustle and recommended as porn for couples on NetDoctor, as a source for those seeking BDSM, and for those who are not into casual sex. We took to the airwaves when Shine joined Dr. Chris Donaghue on LOVELINE, spoke with Sunny Megatron about biphobia on American Sex Podcast, and saw love on the Sex Gets Real Podcast and After Adult.
We got in a little hot water when Twitter decided the PinkLabel.TV title "Love Your Cunt" was against community guidelines, but it made for a good conversation on Jezebel.com. We were quoted in Germany's popular publication Der Speigel, in Madrid's El Pais, and recommend and included in creative reporting via a French documentary on Alt Porn, and a sit-down with Love Records Magazine where Shine discussed topics such as consent, sexual health, common misconceptions, and why you should pay for porn.

Coming Up Next…
If you screen them, they will come!
Drumroll please!… this year we announced the inaugural San Francisco PornFilmFestival (presented by PinkLabel.TV) to take place August 20-21 2020 at the Brava Theater in San Francisco's Historic Mission District.
San Francisco was once the 'smut capital' of the USA, home to the Mitchell Brothers' Theater, and holds a rich history of adult film creators. We seek to celebrate our legacy with by sharing in the brilliance of independent films and hope to inspire more films by Bay Area filmmakers. (If you screen it, they will come!) Stay tuned for more information as we gear up to announce the call for submissions later next year.
And much more to come!
We have a LOT to look forward to in 2020. From the premieres of our two films Camera and I and Chemistry Eases the Pain to the debut of the San Francisco PornFilmFestival. We'll continue to release new queer porn episodes on CrashPadSeries.com and host films by peer filmmakers on our streaming network PinkLabel.tv. And who knows what other fun endeavors we'll explore!
Join us by subscribing to our sites and following us on social media. Thanks to our loyal members who support our work and make this all possible. Wishing you the most rawkin' year ahead.
~ PW, Inc