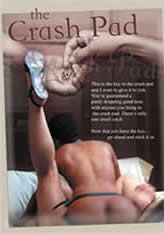 The Crash Pad is amazingly hot hardcore indie feminist dyke porn, sure to appeal to anyone who likes seeing gorgeous women do wonderfully nasty things to one another. These aren't your standard pornstar types, but a hip Bay Area cross-section — the sultry femme, the boyishly cute dyke, the tattooed, and the pierced are all represented. How hot is this movie? Within the first seven minutes, you're treated to double penetration with strap-ons, and it only ups the ante from there. These women devour one another. There's cocksucking, cuntlicking, anal fucking, rimming, squirting, masturbating, three-ways, and more.
The premise is simple: there's an apartment, and if you're lucky enough to be given the key, you can let yourself in… and let yourself go. This isn't fake lesbian porn with pointless high heels and starlets barely able to conceal their distaste as they awkwardly tongue kiss. Real sex, real orgasms, real sweat, real bodily fluids, real laughter — this is the genuine article, so utterly natural that the fact it's being filmed seems nearly incidental. Director Shine Louise Houston has become one of the leading lights of the feminist porn movement, and her debut film demonstrates her unparalleled sense of style, humor, and, most of all, her dedication to hot real sex. Extensive extras include a cast interview, director interview, storyboards, outtakes, trailers, and a director's commentary.
The Crash Pad is, simply, one of the hottest films we sell, a feature so groundbreaking that it has spawned a slew of imitations, and winner of the Hottest Dyke Sex Scene from the Feminist Porn Awards. It's really that good. Here's the key. Come inside.
Cast: Jiz Lee, Shawn (aka Syd Blakovich), Dusty Ryder, Roxie Ryder, Jo, Dylan Ryan, Simone
Reviews
Review by Fem.Men.Ist blog and Pink & White Fan
"As a hetero-dude, this felt like porn therapy for me! To watch an adult film that wasn't pitched to me in this narrow, oppressive, dysfunctional way… was really a corrective experience. This was made for primarily for queer folks to enjoy… and maybe its queer for me as a straight person to appreciate this in a heartfully refreshing way."
-Richard of Fem.Men.Ist
Janesguide.com review
"The first major production of this company is a movie called The Crash Pad which manages to capture bio female lesbian passion really well. The actors run the gamut from butch to femme, and the interaction is tasteful but HOT HOT HOT."
– Vamp, janesguide.com
Read Felice Newman's fabulously naughty review of The Crash Pad in the SF Bay Times.
"I don't know what I want to tell you about first—the chemistry between the actors, most of whom are real-life couples; the amazing camera angles showing penetration up close and so clear that you can see the cream oozing; or a shocking cum shot that rivals anything in mainstream porn.." – Felice Newman
Check out Shine Louise Houston interview spread in Curve Magazines sex issue.
Greatsexgames.com 's highest rated porn pick… hear the podcast!
Eros Guide Erotic Ezine feature Thomas S. Roche's review of The Crash Pad .
"…the formula is simpler and truer than anything ever conceived of by Porn Valley: ART + SEX = PORN. The Crash Pad is as good as it gets." – Thomas S. Roche
Pink and White's first production, The Crash Pad, is released and already getting raving reviews:
"… I was turned on after 15 seconds…"-Cherry Bomb of Queen of Cream: True Tales of the Sex Industry in the City"The first rule of Crash Pad is; Go buy Crash Pad. The second rule of Crash Pad is: Go Buy Crash Pad!"-Tony Comstock of Comstock Films

"…the dykes in "The Crash Pad" really show how good sex is done. The performers' bodies shine with sweat and you can almost smell the hot lesbian pheromones poring off of them."-Audacia Ray of Waking Vixen
The Crash Pad stars Dylan and Jiz are featured in On Our Backs Magazine

Sfist.com (we missed this one earlier) is bringing you the good news of Pink and White.
Read what Fleshbot's Violet Blue has got to say about yours truly…