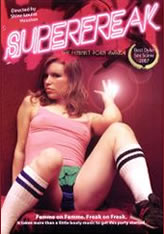 The premise of Superfreak is a kind of funky genius: the roaming ghost of punk-funk musician and notorious wild man Rick James possesses the bodies of women and makes them get super-freaky with one another. The ghost, who appears only briefly between possessions, is played by director Shine Louise Houston, who does an impression of Rick James that rivals Dave Chapelle's. Houston is rapidly becoming a name to be reckoned with in the world of independent lesbian porn, and Superfreak is just as hot (and far funnier) than her first award-winning film The Crash Pad.
The lascivious ghost of Rick James's first victim is luscious fetish goddess Madison Young, who masturbates in the opening scene with a dildo and Hitachi Magic Wand. The only touch of bondage is a rough rope tied around one of her thighs, but a little goes a long way, and Madison's intensity is mouth-watering. Not content with self-pleasure, Madison goes in search of fellow freaks, and finds a hopping party, where she proceeds to seduce Dylan Ryan, a cute strap-on-wearing butch. After some sucking and fucking against a wall, the ghost of Rick James decides to move on, leaving Madison bewildered and embarrassed behind the couch; it's a weird and whimsical movie. The ghost of Rick James finds plenty more to entertain himself, though, and we're treated to a delectable series of varied scenes, from two short-haired, lean beauties (Vasa and Shawn) fucking in the kitchen (with a lot of spraying water from the sink), to a bathroom floor-romp with Rozen and Guy Handful that threatens to break fixtures and crack porcelain, to an amazing three-way with deliciously femme lesbians, featuring some of the hottest ass-play we've ever seen, with Dana DeArmond and Princess Donna having their alternately rough and tender way with the lovely Lorelei Lee.
It's a whimsical, warm, funny, unspeakably hot movie, and as a special two-disc set there are heaps of extras. All porn should be this smart and delightful. Highly recommended.
Winner of Best Dyke Sex Scene at the 2007 Feminist Porn Awards!
Cast: Madison Young, Dylan Ryan, Vasa (aka Jiz Lee), Shawn (aka Syd Blakovich), Rozen DeBowe, Guy Handful, Dana DeArmond, Lorelei Lee, Princess Donna
Reviews:
Viviane's Sex Carnival reviewer Domina Doll reviews Superfreak on Femme Film Fridays-Superfreak.
Superfreak features all the raw fuckery and authentic performances that Pink and White is known for, while adding an extra dash of spunk and trashy humor that makes for a psychedelic sexcapade.
Superfreak and The Crash Pad are Nerve.com's pick for top porns!
Here! TV pushes the limits with a six-part series on Lesbian Sex and Sexuality. Director Katherine Linton goes behind the scenes on the set of Superfreak, finding out what really lesbians do in bed.
Eros Zine's Thomas Roche reviews Superfreak.
"True to the San Francisco school of porn, there have been plenty of handsome butches and sexy tomboys thus far — but as the party winds down femmes Dana DeArmond and Princess Donna up the femme quotient when coquettish Lorelei Lee shows up asking 'did I miss the party?' She didn't."
– Thomas Roche ,eros-zine.com
Violet Blue, sex writer, editor, adult book and video reviewer and machine artist, podcast NPR interview. (free photo gallery)
"Shine is the producer, director and creator behind what is one of the hottest, most authentic lesbian porn companies around…"
– Violet Blue, www.tinynibbles.com
"Shine Louise Houston is back with her sophomore effort, and we think you'll agree that it was worth the wait. Intelligent, funny, and hot as hell, Superfreak picks up where The Crash Pad left off. Eavesdrop on the wild goings-on as an all-girl party gets out of control with three-ways, strap-ons and hot solo action. What's gotten into these girls?" -goodvibes.com