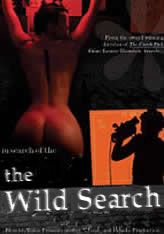 From the director of The Feminist Porn Awards' Hottest Dyke Sex scene (The Crash Pad), Shine Louise Houston presents The Wild Search. Follow documentary filmmaker Georgia Mann and her crew through the streets of San Francisco as they capture some of the most raw and compelling sex to date. One woman's quest to find, film and understand "real lesbian sex" leads her into the depths of queer sexuality. Femme-on-femme, one stud boi, and hot trans guy action make this mocumentary the ultimate PoMo-homo porno."
The Wild Search is the latest (and greatest) film from indie auteur Shine Louise Houston, whose earlier releases The Crash Pad and Superfreak garnered her accolades from feminist porn fans and queers of various persuasions. Like her previous movies, The Wild Search is a tour-de-force of lesbian sex, featuring lots of hot butches and femmes from the San Francisco area. This is the pure product. There are no gay-for-pay bottle blondes with scary fake fingernails engaged in perfunctory open-mouthed tongue kissing here — except in a brief, hilarious scene that parodies such moments in mainstream porn movies.
The basic premise is clever and used to very funny effect. A documentary film crew follows around another documentary film crew as they attempt to film the mating habits of San Francisco lesbians. So The Wild Search is a (fake) documentary about a (fake) documentary about (real) lesbians. (Follow all that?) Imagine one of those National Geographic programs, with cameras watching lions from the distance, only instead of lions, they're watching lesbians. The fundamental joke is that the people having sex don't notice the camera crew in their apartment or in the bar, and there's a really funny bit of business with a "decoy lesbian," a mannequin dressed up and sent out to attract the natives. All that's cute and innovative, but what about the sex? This is a film made by and for lesbians, but given the tastes of most heterosexual men, they're likely to enjoy this, too, and it might even dispel some silly misconceptions about how women have sex. (Short answer: they have sex in all sorts of awesome ways.) The sex scenes are often really intense, especially a long three-way with two lovers wearing strap-ons. The most important thing: this is real fucking, messy, gasping, sweaty, improvisational, impetuous, spirited, and beautiful. It's a very funny mockumentary, but there's nothing mock about the sex. Don't miss it.
Winner of Best Trans Sex Scene at the 2007 Feminist Porn Awards
Cast: Beau Flex (aka Jiz Lee), Courtney Trouble, Rozen DeBowe, Dylan Ryan, Wil Thrustwell, Papi Coxxx.
Reviews
Pop My Cherry reviewer Domina Doll reviews The Wild Search.
Houston is known for mixing authentic queer sex within a humorous parody framework and [The Wild Search] certainly delivers.  Houston describes the film as a "pomo-homo-docu-mockumentary," a statement that mocks filmmaking and documentaries by challenging the preconceived notions of what is "real".  The film stages itself as a documentary filming another documentary crew who are in search of the "truth" about "real lesbian sex" meanwhile questioning lesbian stereotypes and the [ph]allacies of hetero-male produced porn.
AlterNet Nikko Snyder from Bitch Magazine writes in "Strange Bedfellows: Can Feminism and Porn Coexist?"
"Shine Louise Houston, who comes at her work from the perspective of a queer woman of color, says that "The sex is the compelling story," but nevertheless adds "Showing different gender identities, sexual proclivities, different body types, skin colors — that's all on the agenda." Houston's [The Wild Search] creates what she deems "the ultimate PoMo-homo porno" with femmes, bois, and trans models frolicking together in a simple, hilarious story about a straight documentary filmmaker obsessed with tracking the wilds of lesbian sex."
Sexerati Exclusive Clip Teaser and Interview with Shine Louise Houston
"Warning, the following may just be too much hotness, too much certainly to contain in just this one little bit of Firefox opened up on the sunniest, sweetest street in the Lower Haight today (of course I blog sex in public), too much hotness for San Francisco, too much hotness for us not to share this gasp, smack, wet-inducing clip that director Shine Houston has delivered to us exclusively from the latest Pink&White Productions feature, [The Wild Search]…"
– Melissa Gira Grant
Eros Zine Featured Event
"If you're in the Bay Area, especially if you no longer understand where the line between homosexual and heterosexual lies, hit the Roxie on March 29 and show your support for local sex-positivity — and, more importantly, check out the new film from one of the most important erotic filmmakers working today."
– Thomas S. Roche