Pink & White Receives Multiple XBIZ Nominations
Industry Recognizes Feminist, Queer Porn
SAN FRANCISCO (November 20th) — Bay Area progressive porn company Pink & White Productions, creators of queer and independent adult cinema through its films and websites, has been recognized by the Los Angeles adult industry with multiple nominations in the 2014 XBiz Awards.
Feminist Porn Release of the Year: OCCUPIED
The first to be recognized is Pink & White Productions' first short narrative film, OCCUPIED: a queer hardcore romance for the 99%. When an Occupy protester (Maggie Mayhem) dares to strike back at a brutal cop (Kathryn Dupri), the chase is on. Officer Dupri soon finds better uses for her baton, and Maggie's neither passive nor resistant. But can a cop be trusted? Or is all fair in love and class war? Artfully edited and beautifully explicit, OCCUPIED keeps you guessing from start to stop. Directed byShine Louise Houston, OCCUPIED was conceived by porn performer, trans advocate and noted Feminist Porn Award's Heartthrob, Drew DeVeaux. The film also features legendary Feminist Porn iconAnnie Sprinkle (herself a champion of sex worker rights and health care) and her wife and artistic collaborator Elizabeth Stephens (in a nonsexual role).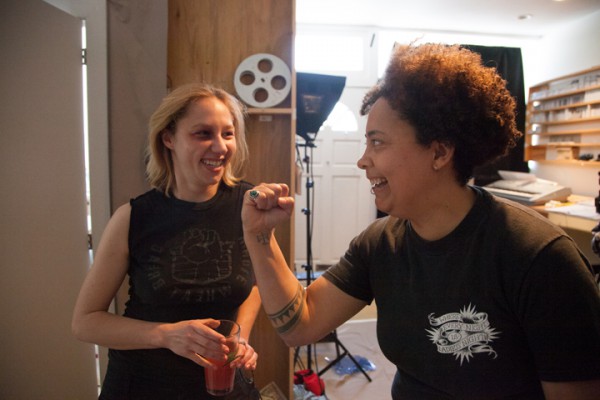 OCCUPIED star Maggie Mayhem (left) and Pink & White Director Shine Louise Houston (right).
"OCCUPIED has been my favorite porn project to date," says star Maggie Mayhem, who draws from her experience as a supporter of the Oakland and New Haven Occupy camps. Her project with partner Ned Mayhem, "Meet the Mayhems," documented Oakland's police action on the October 2011 raid. Maggie spent time with the New Haven camp and visited City Hall with them in February of 2012.
OCCUPIED had a World Premiere at the 2013 PornFilmFestival Berlin in Germany, and is available Video on Demand at PinkLabel.tv where it received a celebrated web release.
Specialty Site of the Year: CrashPadSeries.com
Based on the cult classic The Crash Pad, which was awarded "Best Dyke Sex Scene" at the inaugural Feminist Porn Award ceremony, CrashPadSeries.com is a one-of-a-kind membership site and a virtual hotbed of queer sexuality. Known for it's portrayal of genuine queer women's sexuality, and with a mission devoted to exploring diverse genders and desires, CrashPad is proud of the recognition from peers in the "mainstream" Los Angeles adult industry.
Pink & White Productions extends the congratulations to the cast and crew, and gratitude for sharing their sexuality, creativity, and articulate dialogue to create the best site possible for its community of performers and loyal audience members.
"Seeing CrashPad really validated how I had sex, my body, and my sexuality in a way, that I rarely saw in other forms of pornography." – Chelsea Poe, site fan (and now performer!)
Specialty Site of the Year: PinkLabel.tv
Just a year after its launch, PinkLabel.tv is well-primed to receive the nomination and mainstream adult industry attention.
As a fair-trade Video on Demand hub for independent adult filmmakers, the rental site's content is curated by Feminist Porn Award's "Visionary" winner, Shine Louise Houston. As such, the site features several Feminist Porn Award winning titles, including exclusive videos which are not found anywhere else on the internet. Titles include Jennifer Lyon Bell's Skin.Like.Sun., Indigo Lush's The Thought of Her, and Feelmore's Hella Brown: Real Sex in the City. There are also many titles which are nominated for XBIZ Awards' Feminist and Trans categories.
Featured PinkLabel.tv XBIZ Award Nominees
FEMINIST PORN RELEASE OF THE YEAR
OCCUPIED: a queer hardcore romance for the 99%
Shine Louise Houston (Pink & White Productions)
Official Selection: PornFilmFestival Berlin, Germany
Link: http://www.pinklabel.tv/on-demand/?scene=occupied
TRANSSEXUAL RELEASE OF THE YEAR
Sexing the TransMan XXX Volume 3
Buck Angel (Buck Angel Entertainment)
2014 TrannyAward Nominee
Link: http://www.pinklabel.tv/on-demand/?scene=sexing-the-transman-volume-3
FEMINIST PORN RELEASE OF THE YEAR
Lesbian Curves 2: Hard Femme
Courtney Trouble (Trouble Films)
Feminist Porn Awards Best Dyke Film
Link: http://www.pinklabel.tv/on-demand/?scene=hard-femme
The Pink & White Productions Affiliate & Bonus Program offers competitive payout commissions, attractive banners, and unique feminist porn films. It covers Pink & White's Network, including nominated sites CrashPadSeries.com and PInkLabel.tv, it's studios, titles, and even blog posts.
For press inquiries and affiliate information, please contact Jiz Lee at jiz@pinkwhite.biz.
For a full list of Nominees, see http://xbizawards.xbiz.com/nominees.php
About Pink & White Productions
Founded by Shine Louise Houston in 2005, Pink & White Productions is known for portraying authentic queer desire and fluidity of sexuality and gender in adult cinema. The company's featured films and projects have screened world-wide, and presented at academic institutions, most recently at Stanford University. Houston's work adds representation to queer sexualities, spanning communities of color, gender expression, sexual desire, body politics, BDSM and other marginalized experiences with strikingly beautiful cinematography, humor, and realism.
About the XBIZ Awards
For over a decade, glitz, glamour and the biggest names in the world of adult entertainment have made the XBIZ Awards show the biggest night of the year and the most prestigious symbol of industry success. The star-studded event hosts A-list movers and shakers of the multibillion-dollar adult industry, generating buzz throughout the business and media. With an expanded list of more than 150 award categories, the 2014 XBIZ Awards show is set to feature the most expansive array of honors in the show's history.
Tags: Pink and White Productions, CrashPadSeries, CrashPad, PinkLabel, XBIZ Awards, Shine Louise Houston, OCCUPIED, Queer Porn, Trans Sexuality, Trans Porn, Queer Sexuality, Awards