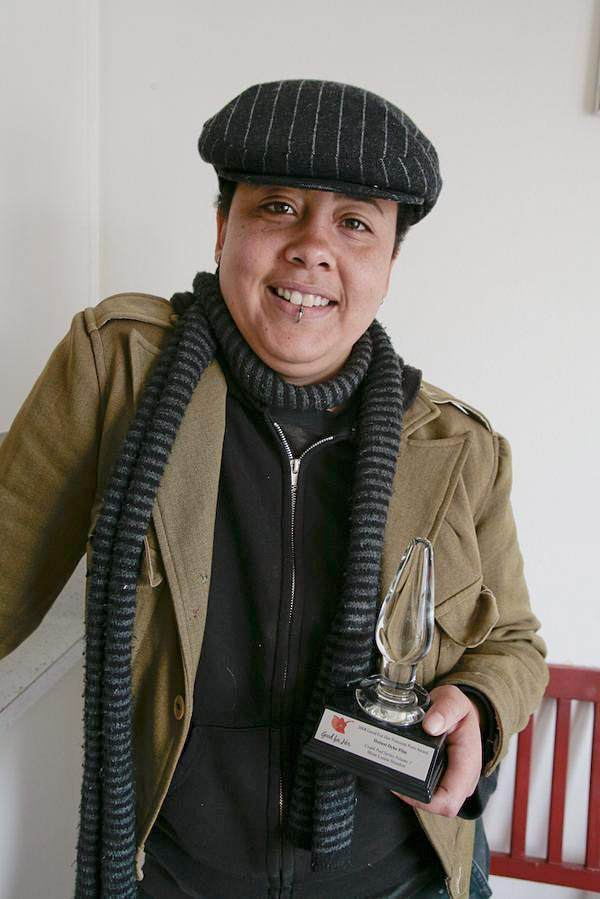 San Francisco, CA — (April 19, 2011): Pink & White Productions (PinkWhite.biz), award-winning porn production company founded and directed by Shine Louise Houston, produces sexy and exciting images that reflect today's blurred gender lines and fluid sexualities. From feature films to popular websites, her work portrays authentic sexuality that has been screened globally from film festivals to university/college classrooms and is as hot as it is a culturally significant reflection of queer sex.
Houston's past projects (The Crash Pad, Superfreak, The Wild Search, CHAMPION: Love Hurts) and popular Crash Pad Series DVD volumes have been recognized year after year by AVN Awards and the Feminist Porn Awards. Last year, Houston was honored 2010 Feminist Porn Awards "Trailblazer". This year, her projects Crash Pad Series Volume 6: Wide Open, CrashPadSeries.com were nominated, however the win went to her newly unveiled creation, HeavenlySpire.com.
HeavenlySpire.com is a unique membership website Houston creation for the purpose of masculine appreciation. The site focuses on masculine beauty and sexuality and how it manifests on different bodies. Following the same vision as Houston's previous projects HeavelySpire focuses on capturing genuine pleasure with Houston's signature cinematic style.
While most gay/male porn membership websites cast only cisgender male performers, HeavenlySpire.com openly views the masculinity of diverse bodies which include trans-masculine models. All performers are shot intimately describing their sexual identities, bringing diverse voices and body images to queer men not commonly expressed in pornography.
Houston created the project to explore her personal attraction and curiosity about masculinity from the perspective of a queer woman of color. Accepting her award at the international ceremony held in Toronto, Houston acknowledged her interest in working with male models and commended her collaborator, photographer/videographer Tristan Crane, who works on the site with her. She dedicated the win to "all Feminists who love cock."
For more information about Heavenly Spire, see heavenlyspire.com or contact alliance@crashpadseries.com to arrange an interview or press/review pass to the website. For more info about the 6th Annual Good For Her Feminist Porn Awards, see http://goodforher.com/2011_good_her_feminist_porn_award_winners
About the Good For Her Feminist Porn Awards
Started in 2006, The Feminist Porn Awards are produced by Good For Her, a Toronto, Canada based feminist sexuality education centre and sex store.  This event was started when Good For Her realized it wasn't enough to criticize adult films for not adequately representing women's – and in many cases, men's – sexuality.  The Feminist Porn Awards were created with the goals of celebrating ethical, feminist porn, exposing this work to a larger audience, and creating community amongst filmmakers, performers and audience members.  Since starting the Feminist Porn Awards, Good For Her has handed out over 70 awards to movies, short films, websites, directors, heartthrobs, boundary breakers and visionaries, while shining a light on the astoundingly sexy work of these feminist artists and filmmakers.
About Pink & White Productions
Shine Louise Houston founded Pink & White Productions in 2005, aiming create a sustainable adult entertainment company that exposes the complexities of queer sexual desire. Taking inspiration from many different sources, Pink & White is dedicated to producing sexy and exciting images that reflect today's blurred gender lines and fluid sexualities. Recognized internationally for smart and sexy work, Houston's projects include four feature films, regular DVD volume releases of her popular queer porn website crashpadseries.com, and her newest endeavor, HeavenlySpire.com.
"There is power in creating images, and for… a woman of color and a queer to take that power… I don't find it exploitative; I think it's necessary."
~ Shine Louise Houston
Director, Pink & White Productions