Tina Horn's Docu-Porn to Screen with Public Sex, Private Lives

Brooklyn, NY — Pink & White Productions' emerging pornographer series Point of Contact will see an East Coast premiere on Thursday, March 27th, when Tina Horn and Stephen Elliott  present a selection of short films, followed by a screening of the acclaimed documentary Public Sex, Private Lives at Videology in New York.
PUBLIC SEX, PRIVATE LIVES
Dir. Simone Jude. 71 min.
Public Sex, Private Lives is an intimate look at the professional and private lives of porn performers Lorelei Lee, Princess Donna, and Isis Love. Capturing moments of joy and struggle, this film follows the characters as they navigate their lives as artists, daughters, mothers, and women who have made careers in the adult industry. Asked to defend their choices to their families, communities, and even the United States Government, these women share their unique motivations and shifting visions for the future. The film's editor Jesse Kerman will be in attendance for questions following the screening.
Stephen Elliot, is the founder of The Rumpus and author of seven books. Stephen will screen a couple of clips from his second feature film, Happy Baby, based on his novel of the same name.
Tina Horn produces and hosts the podcast Why Are People Into That?!. As a a filmmaker, she has won two Feminist Porn Awards. She will be showing some documentary footage from her project for Pink and White productions' Point of Contact emerging pornographer series.
"With this project, Shine Louise Houston gave me a platform as a sex worker and queer artist," Tinablogs. "This project empowered me to transform a lot of my ideas about sex and BDSM – age play fantasies, bondage, gender-fucking – into hardcore films." Read more in her essay, Exhibitionist Slut Time Capsule.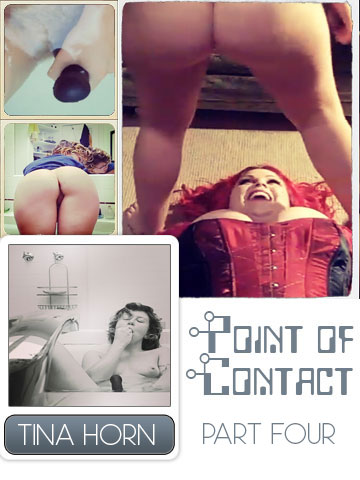 Another day in the life of Tina Horn's Ass. On this very perfect day, we bear witness to some of the most luscious face sitting one could hope for… upon the beamingly beautiful face of the April Flores. Tina goes cheek to cheek, smothering April with her deliciously thick ass. Tina then brings this joyous day to a close with "me time." Stroking her double-ended dildo for just the right amount of G-spot pressure, her fantasy dick gives way to moaning wet orgasms. [watch trailer]
Videology
308 Bedford Avenue
Williamsburg, Brooklyn NY
Thursday, March 27th 9:30PM
Pink and White Productions' emerging pornographer series Point of Contact was a project conceived in 2009 that fosters up and coming filmmakers through a micro-production model. Point of Contact equips individuals with a small budget, camera, and guidelines enabling them to produce their own four-part series. Once their work is shot, the final content is edited by Pink and White Productions and distributed on PinkLabel.TV, where a direct percentage of the sale goes to the filmmakers.
For more information, please contact Online Marketing Director Jiz Lee at jiz@pinkwhite.biz. Point of Contact is a part of the Pink & White Productions' Affiliate Program.