CrashPad Nominated for a Trans Award!
Stefani Special & Jacqueline Woods "Best Sex Scene"
CYBERNET (November 18th) — Pink & White Productions' queer porn site CrashPadSeries.com was nominated by the self-titled "Tranny Awards" for "Best Sex Scene" in CrashPad Episode 157 starring Stefani Special & Jacqueline Woods.

As a membership site known for its portrayal of genuine queer women's sexuality, and with a mission devoted to exploring diverse genders and desires, CrashPadSeries.com is proud of the recognition from the trans adult community. Pink & White Productions extends congratulations and gratitude to performers Stefani and Jacqueline for sharing their sexuality, creativity, and in addition, an articulate behind the scenes discussion with the company and its members.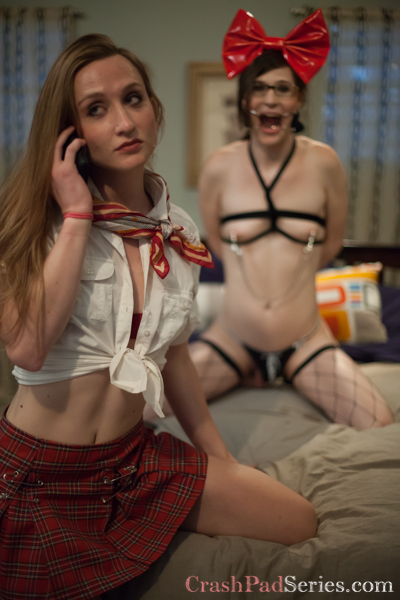 Stefani and Jacqueline came prepared with a plot idea for CrashPad director Shine Louise Houston that incorporated a meta-sex worker script: Jacqueline opens the scene with the woes of ending the day as a sexually unsatisfied cam model, hilariously introducing Stefani as a gift ordered from Jacqueline's Amazon Wishlist.
"The vibes on set that day were great," recalls Stefani, who is also nominated for two other awards, including Best New Face. "It was so cool to work with CrashPad and be able to collaborate with Jacqueline on a kinky fantasy of ours."
In the episode's Behind the Scenes Video, Stefani and Jacqueline talk about their experiences and desires to do porn that is more reflective of the diverse expressions within trans women's sexuality.
"Trans women's sexuality is just as multifaceted as everyone else's sexuality, but you don't get to see that because it's not explored so much." Jacqueline, who is also nominated for "Best Hardcore Performer" elaborates: "I feel like as a trans woman it's easy to get locked into what 'trans porn' looks like — solos, show the cock, etc — but we're just as multi-faceted and versatile as any cisgender person."
In the scene, Jacqueline tops her "gift" Stefani with a mouth gag, butterfly clamps, anal sex and fingering, and exploring pulling and pressure sensations of her genital skin. Stefani relinquishes to Jacqueline and later confesses: "I'm a hell of a switch, but my submissive screams when I'm around you."
The episode has been met with rave reviews within the queer and trans community. Film Strip Warrior writes:
"As a trans woman myself, hot kinky sex, between two trans women, if I may so, is always a personal pleasure of mine to watch. I'd offer this episode up as an example of CrashPad living up to its mission statement – to make porn that queers of all sorts can identify with and get off to."

Nominees also include other familiar faces to Pink & White Productions, including PinkLabel pals Buck Angel and Courtney Trouble, and (shown above, left to right:) CrashPad's own Devon Wipp, Ramses Rodstein, James Darling, and Jacques LaFemme. CrashPad was also the first porn experience for this year's "Best Alt Model" nominee Chelsea Poe, who writes:
"Seeing Crash Pad really validated how I had sex, my body and my sexuality in a way, that I rarely saw in other forms of pornography. I truly believe if I haven't discovered CrashPad, I wouldn't ever seriously considered pursuing porn. Given a chance to shoot for CrashPad with two queer porn icons (Dylan Ryan & Courtney Trouble) was a dream come true and really validated my reasons for going into the industry. I hope my presence within the industry can validate other trans* persons sexualities, the way they have sex and their bodies, in the same way other trans performers who shot for CrashPad in the past validated my trans identity."
Jacqueline & Stefani's "Best Sex Scene" Nominated Episode Video, trailer, behind the scenes interview, and preview images for CrashPad Episode 157: Jacqueline Woods & Stefani Special are available at CrashPadSeries.com, where memberships start at $22/month.
For photos, press inquiries, or Affiliate information, please contact Jiz Lee at jiz@pinkwhite.biz.
About Pink & White Productions
Founded by Shine Louise Houston in 2005, Pink & White Productions is known for portraying authentic queer desire and fluidity of sexuality and gender in adult cinema. The company's featured films and projects have screened world-wide, and presented at academic institutions, most recently at Stanford University. Houston's work adds representation to queer sexualities, spanning communities of color, gender expression, sexual desire, body politics, BDSM and other marginalized experiences with strikingly beautiful cinematography, humor, and realism.
About the Tranny Awards
The Tranny Awards is a red-carpet awards show presented by Grooby, recognizing the best models and producers of the transsexual industry, held every year in Los Angeles. The 6th Annual Tranny Awards will celebrate the accomplishments of the performers, directors, and companies in the TS adult industry.
Tags: Pink and White Productions, CrashPadSeries, CrashPad, Tranny Awards, Grooby Productions, Stefani Special, Jacqueline Woods, Queer Porn, Trans Sexuality, Trans Porn, Queer Sexuality, FTM, MTF, Kink, Awards, Chelsea Poe, Devon Wipp, Ramses Rodstein, James Darling, Jacques LaFemme