Adult Film Industry Honors Queer Porn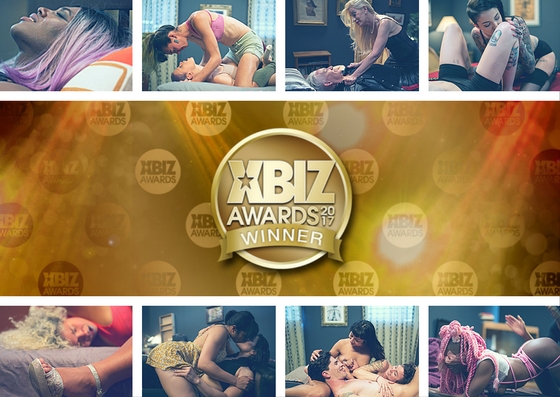 SAN FRANCISCO (January 19th) — San Francisco Bay Area adult film company Pink & White Productions was honored at the 2017 XBiz Awards with "Best Website – Specialty" for its queer porn membership site CrashPadSeries.com.
"Wait, really!?" exclaimed director Shine Louise Houston when she heard the news. "It was surprising back when we were first awarded in 2014, and it's still a shock — it's encouraging to see that our efforts are appreciated not just by our own LGBTQI community but by a broader audience than we'd expect."
Based on the 2005 dyke sex cult classic The Crash Pad, CrashPadSeries.com portrays a clandestine apartment where a voyeuristic landlord (played by Houston herself) supplies keys to pleasure-seeking visitors. The site launched in 2007 with just three episodes. Ten years and over 230 episodes later, regular production happens at the company's San Francisco studio, streaming live to a loyal subscriber base. Showcasing performer-scripted sex by over 260 queer performers from the Bay Area and beyond, CrashPad has become a go-to source for a global audience seeking sexual representation of people not commonly seen in pornography, including intersections within orientation, race, age, gender and ability.
"It's great knowing the wider industry acknowledges and respects the unique work our cast and crew are doing," notes the company's web developer Chris Lowrance, "especially as we're focused on celebrating the sexuality of people who might feel increasingly unloved in the current political climate."
CrashPad's videographer Aja Porn shares Lowrance's view, adding, "I'd like to thank XBiz for recognizing the importance of sexuality defined by women. I'd also like to thank all the women in this industry who make porn possible. Sex is very powerful and porn can be a great tool for self-discovery. The more open we are with ourselves, the more enriching our lives can be."
The award comes during a treacherous and charged political climate, but in many ways, the content produced by Pink and White Productions is an antithesis to the values represented by the incoming presidential administration. CrashPad features queer, trans, people of color, people of size, and folks with disabilities loving each other without shame. The company strives to create a sustainable work environment where our desires are not only respected, but celebrated, demonstrating that we are capable and deserving of a happy and healthy sexuality.
"As we go forth, keep doing you," Aja advises. "Be the realest you can be and continue to raise up each other, despite those whom cannot stand the pleasure of others."
In the spirit of supporting others, Pink and White co-producer Syd Blakovich reveals the company's next step: "The success of CrashPad has enabled us to relaunch our VOD site PinkLabel.tv with updates to make it a better resource for emerging and independent pornographers, expanding our mission to include fellow adult filmmakers, diversify adult content available to viewers, and ultimately uplift the communities we exist within."
For a full list of 2017 XBIZ Award Winners, see: http://xbizawards.xbiz.com/winners.php