Queer Porn Website CrashPadSeries.com Celebrates its 5th Anniversary with April Flores!
Shine Louise Houston's Award-winning Website Live-Streams with Body-Positive Porn Icon April Flores aka Fatty D!
Crash Pad Series celebrates five years of award-winning, ground-breaking work in the field of LGBT adult entertainment with a special guest visitor — April Flores!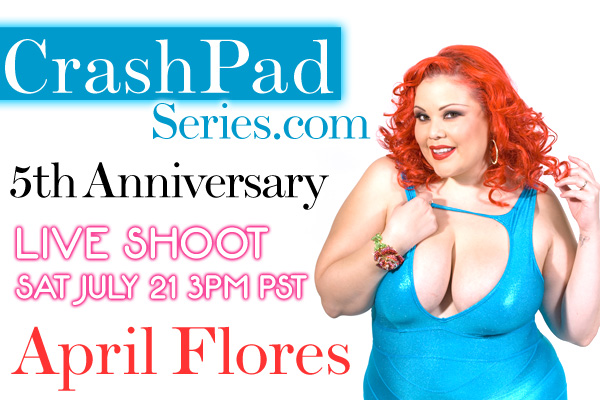 Says April about the shoot: "I met Shine in Toronto at the Feminist Porn Awards. We shared a taxi to the hotel with her and I told her I would love to shoot for CrashPadSeries.com. I am thrilled that I am going to be a part of their amazing site." Visiting from Los Angeles, April adds, "I'm so excited to visit San Francisco because I have such a crush on the city and all the collaborators and close friends I have made there." The Bay Area LOVES April Flores!
Director Shine Louise Houston, cast, and crew, work hard on set to produce ethical porn that shows the complexity and fluidity of queer desire. And you can watch the action, in real-time! Each month, the San Francisco-based company shoots two episodes, flipping on a "Voyeur Cam" to provide curious fans a "fly on the wall" experience to watch the company in the filming process. Join us this July as we celebrate our site's accomplishments!
Saturday July 21st will stream two shoots:
Avery & Rife – 11:00am PST
Our first shoot, with the Voyeur Cam switched on at 11:00am PST, will welcome first-time Crash Pad visitors, Avery & Rife.
April Flores – 3:00pm PST
Following a short break for lunch, we will return for the second shoot at 3:00pm PST, where we celebrate 5 years of ground-breaking queer porn production with a solo scene featuring size-positive icon, April Flores!
Each shoot we invite a special VIP guest to watch from the studio; joining this shoot's guest seat will be San Francisco Bay Guardian Culture Editor, Caitlin Donohue. We'll also be tweeting from @crashpadseries with #crashpadlive. Join us!
Level 3 Memberships are $37/month and includes full access to the site. Non-Members can purchase a $10 Day Pass on the day of the shoot to access just the fly-on-the-wall voyeur cam livestream. And all the site's members can watch the finished edited episode to be posted in August. Sign-up now!
Based on the original "Feminist Porn Best Dyke Sex Scene" smash hit The Crash Pad by Shine Louise Houston, the website carries on the film's hot sex scenes week after week, with diverse genders and fluid sexualities soaking the camera in all manners of toys, kinks, and tricks. With thousands of photos and over 260 mobile-compatible Video Episodes and exclusive Behind the Scenes interviews with over 160 queer porn models, Crash Pad Series is the largest and most diverse queer porn site on the web.
As much "sexy porno" as it is a prolific archive of videos documenting authentic queer sexuality, CrashPadSeries.com also boasts an extensive collection of text-based interview transcriptions. This unique feature both provides access to friends in the DEAF/hard of hearing communities, as well as presents itself as an academic jackpot to scholars and researchers in the fields of feminist studies, gender studies, sexuality, and media pursuits. Over the last five years, images and information from the series have graced the pages of numerous books on gender/sexuality among queer and trans communities, and video clips have provided visual support in the colleges and LGBT festivals across the globe.
A successful small business that is also a reflection of the healthy and diverse cultural climate of sex-positive LGBT communities, CrashPadSeries.com and its producer Pink & White Productions participate actively with groups in the San Francisco Bay Area and beyond, with annual support to events such as the Queer Women of Color Media Arts Project, Communities United Against Violence (CUAV), and countless fundraisers and benefits.
For press passes, images, or other information, contact alliance@crashpadseries.com.
Crash Pad Series boasts a competitive Affiliate Program of 30% recurring commission for webmasters.
About CrashPadSeries.com
CrashPadSeries.com is based on director Shine Louise Houston's award-winning film The Crash Pad, which won Feminist Porn Awards' Best Dyke Sex Scene. The website continues from where the film left off, portraying a clandestine San Francisco apartment where a voyeuristic landlord (played by Houston herself) supplies keys to the pad's pleasure-seeking occupants so that she can observe their sexual escapades through hidden cameras.
Nominated 2010 AVN Award's "Best Alternative Website" and honored as the 2012 Feminist Porn Awards' "Best Website", CrashPadSeries.com was created in 2007 and has included professional and first-time performers alike in high-quality video episodes and smart behind the scenes interviews. The site features a diverse cast of amateur and professional porn performers in a variety of pairings that transcend normative gender binaries and sexual orientations. The series has quickly become the top recommended site for audiences seeking high quality feminist porn and authentic queer sexual chemistry. As much of a queer cultural documentary as it is a hot porn destination, episodes from the series are often screened in colleges and universities by sex educators and campus LGBT groups interested in authentic and explicit examples of queer and trans sexuality.
About Pink & White Productions
Founded by Shine Louise Houston in 2005, Pink & White Productions is known for portraying authentic queer desire and fluidity of sexuality and gender in adult cinema. The company's featured films and projects have screened world-wide, and presented at academic institutions, most recently at Standford University. Houston has been honored at the PorYes Feminist Porn Awards in Berlin and was noted Toronto's Feminist Porn Awards' Visionary, as well as Curve Magazine's Sex Curator. Her work adds representation to queer sexualities, spanning communities of color, gender expression, sexual desire, body politices, BDSM and other marginalized experiences with strikingly beautiful cinematography, humor, and realism. Following the popular best-selling movie "The Crash Pad", the company's website CrashPadSeries.com portrays an illustrious San Francisco apartment where queers go to have the best sex of their lives. Houston's newest site, HeavenlySpire.com explores masculine sexuality in her signature style. For more information about Shine Louise Houston and Pink & White Productions, visit PinkWhite.biz.
About April Flores
April Flores is a muse and erotic performer who seduces viewers with her intoxicating beauty and fearless sexuality. The cover model and feature story of Bizarre Magazine & AVN Magazine; cover of the coffee table book WILD SKIN by Carlos Batts (Edition Reuss), She's been published in Taschens Nu Erotica, London Fashion Magazine CLAM, EGON Magazine by award winning Italian design Studio Kmzero, she has been a guest on PLAYBOY RADIO-Sirius/XM Radio multiple times, images of her likeness have been featured in Gallery exhibits by COOP, Robert Vargas & George Pitts, jewelry fashion editorials in Swindle Magazine, New York Art Zine Jouissance, has appeared in films by Vivid, Adam & Eve Pictures, Heartcore Films and Belladonna/Evil Angel and many other glamorous publications and books. Find April online at fattyd.com and follow her on Twitter at @Fatty_D.