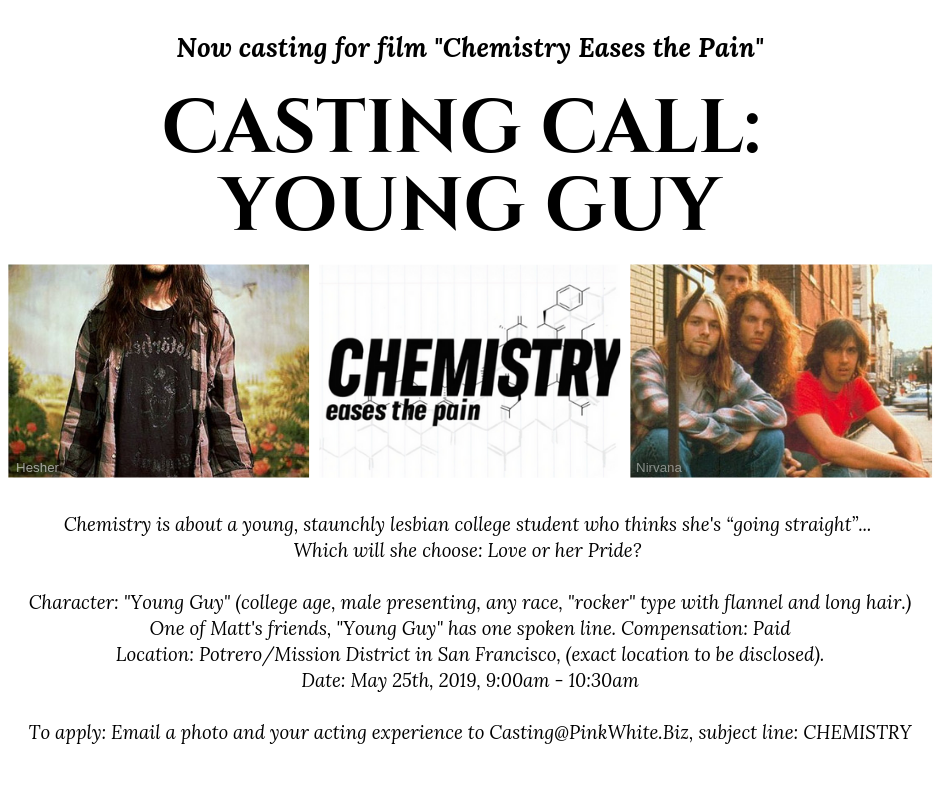 Hiring a YOUNG GUY for "Chemistry Eases the Pain"
Casting Call: Young Guy a college-aged Man
Film: Chemistry Eases the Pain, written and directed by Shine Louise Houston
Chemistry is about a young, staunchly lesbian college student who thinks she's "going straight"… Which will she choose: Love or her Pride?
Character: "Young Guy" (college age, male, any race, a "rocker" type with a flannel and long hair.)
One of Matt's friends. Character has one spoken line.
Location: San Francisco (location to be disclosed)
Date: May 25th, 2019, 9:00am – 10:30am
Compensation: Paid
To apply: Email your acting experience and recent photos to: Casting@PinkWhite.Biz
Subject line: CHEMISTRY
Actors of all genders, races, and abilities are welcome to apply. Due to high volume we may not respond to each applicant, however if interested, we will reply and ask you to come in or conduct a reading via Skype.
Note: The film will include explicit sex scenes and will be distributed on the internet on adult websites. This particular role is clothed; it is NOT nude and NOT part of a sex scene. Candidates must be comfortable appearing in a film that will be marketed as an adult film. A stage name can be used.
Photos in accompanying image are from Hersher and Nirvana to demonstrate "Young Guy" long hair and flannel shirt aesthetic.