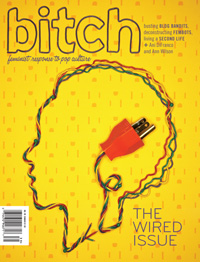 Bitch Magazine's Fall 2008 WIRED Issue asks the question, "What makes feminist porn feminist?"
Bitch interviews Good For Her Feminist Porn Awards' Chanelle Grant and pornographers Tony Comstock, Audacia Ray, and Shine Louise Houston, Director of Pink & White Productions. In Search of the Wild Kingdom was awarded "Best Trans Sex Scene 2008" at the Feminist Porn Awards.
See the issue to read the story.
Subscribe to Bitch Magazine at: http://bitchmagazine.org/subscribe.