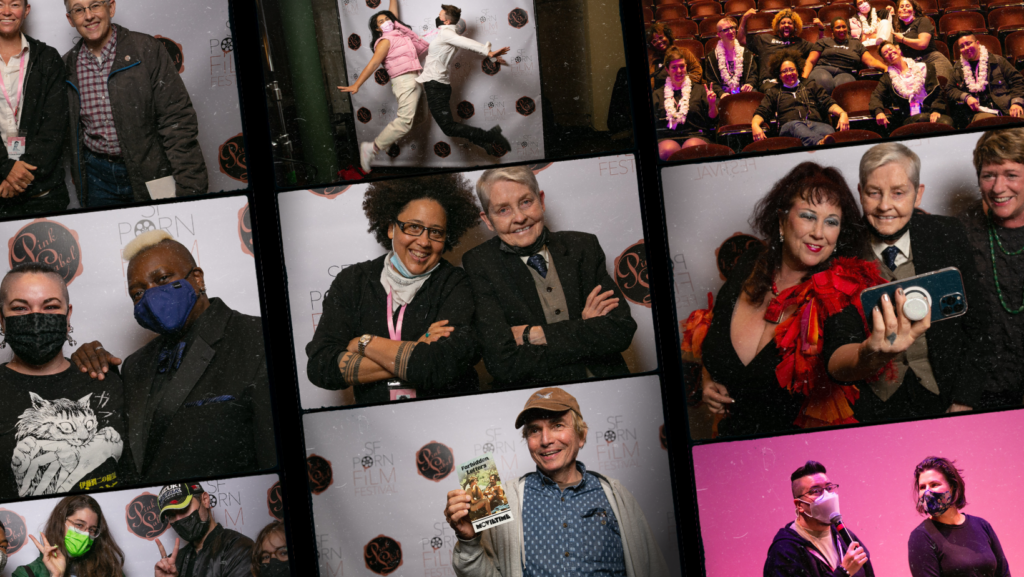 For Immediate Release:
SAN FRANCISCO, California, U.S.A. (July 20th, 2022) — Pink and White Productions has announced its programing for the third annual San Francisco PornFilmFestival, set to be held in-person at the Brava Theater and virtually on PinkLabel.tv August 24-27.
2022 San Francisco PornFilmFestival
Screening August 24-27, 2022
Brava Theater, California
&
SFPFF.pinklabel.tv
A collection of over 70 titles span experimental to documentary genres, each pushing the definitions of film that explores topics of sexuality. Attendees can look forward to an enthralling hybrid festival with post-screening filmmaker chats and a vibrant collection of well-crafted and thought-provoking erotic and adult films.
Organizers present the movies from the Bay Area and internationally in a festival that strives to "push the genre" and expand the cinematic landscape of sexuality.
The festivities begin online on Wednesday, August 24th when FORE/PLAY kicks off with a 24-hour offering of specially selected films on-demand. The sexual history of the Bay Area will be showcased through selections including, "Submission Possible: San Francisco," in which erotic artist Madison Young reunites a community of "sexual luminaries, misfits, artists, kinksters, and activists" such as Annie Sprinkle, Elizabeth Stephens, Midori and Cleo DuBois. "Raw! Uncut! Video!" chronicles the rise and fall of homegrown gay porn studio Palm Drive Video and explores how a devoted couple helped battle a devastating health crisis by promoting kinky sex. Local favorites "East Bay Brats 4" by TroubleFilms and Filthy FemDom's "Club Cuck" showcase the Bay Area's contemporary BDSM porn producers.
Thursday, August 25th, artists will come together at 11am Pacific, streaming online from across the seas in a filmmaker chat with MEET/GREET. Later that evening at 7pm, Fred Halsted's 1974 "L.A. Plays Itself" will kick off the Online Opening Film Showcase. The film is preceded by early 2000's lesbian erotic classic "Hey Sailor, Hey Sister" with producers sharing a live Q&A with Festival Director and Queer Filmmaker Shine Louise Houston.
On Friday, August 26th, the festival goes hybrid with two action packed shorts programs broadcasting live from the Brava Theater. REEL/SEX screens shorts with a documentary flavor at 4:30pm. "MostlyPics House" director and star Vanniall will be in attendance. Then at 7:30pm that evening, SEX/SCENE continues the fun with local highlights "Chaac and Yum" by filmmaker Roberto Fatal and performers Xav S-F and Snowflake Calvert (aka Daniel Arizmendi), "L'Ingrediente Principale" by Isis Tatiana Hockenos and Haley Myer, "Transform" by Domina Mara and "Eternal Flame" by duo BeyonDeep. Be sure to stick around for filmmaker Q&A live on stage.
Festival programing comes to a close on Saturday, August 27th with FUCKING/FUN at 4:30pm presenting comedic and clever shorts. Gene Graham's contemporary documentary on Black America through the underground world of exotic dancing in "This One's For the Ladies" screens as the festival's Closing Night Film at 7pm.
Neighborhood night scene favorite Pop's Bar serves as the festival's in-person mixer both evenings, with a closing night AFTER/PARTY on Saturday after the final show.
If you've missed any program, please stay tuned online to catch the RE/PLAY offering festival programs and recorded Q&As on-demand through September 10th.
The 2022 San Francisco PornFilmFestival is presented by PinkLabel.TV and made possible thanks to the financial support of Premier Sponsors AdultTime, Zaawaadi, and over 70 backers. The festival fundraiser continues with a stretch goal of $15,000.
Pre-sale festival passes are available through the campaign perks. Find the crowdfunding campaign here.
For the full list of official selections, click here and subscribe to the event's official newsletter here.
Follow the fest on Twitter and Instagram and use the social media hashtag #SFPFF. Please direct inquiries to info@sfpornfilmfestival.com.
About the San Francisco PornFilmFestival
The San Francisco PornFilmFestival seeks to showcase the creativity and craft of adult-oriented films from the Bay Area and beyond. Inspired by numerous adult film events, we want to specifically thank the Berlin PornFilmFestival for its namesake and guidance in forming this new American landmark festival. We embark on this journey to celebrate San Francisco's vibrant legacy of sex-positive film artists.
About Pink and White Productions INC
Founded by Shine Louise Houston in 2005, Pink and White Productions creates adult entertainment that exposes the complexities of queer sexual desire. Taking inspiration from many different sources, Pink and White is dedicated to producing sexy and exciting images that reflect today's blurred gender lines and fluid sexualities.
XXX
Tags: San Francisco PornFilmFestival, Pink and White Productions, Adult Film Festivals, Online Events, Livestream, Crowdfunding