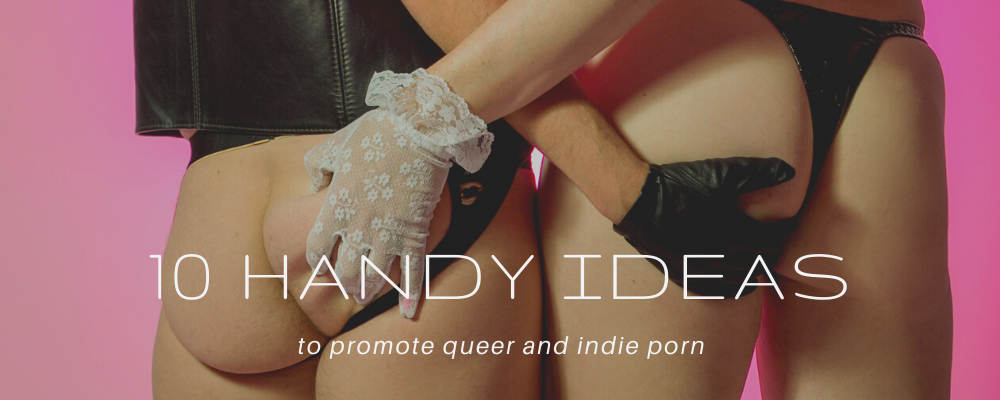 Promo ideas to promote Pink and White's sites CrashPadSeries.com and PinkLabel.TV. 
1. Write a Review of a film or episode. Here's an example. (Use your referral link and gallery images to illustrate your post!)
2. Post a "Top 10" guide recommending your favorite films, directors, or studios. Here's an example.
3. Review our websites! Here's an example of a review of CrashPadSeries.com, with some lovely original photography.
4. Post on Social Media. Don't have a website? Use your Twitter account to post your affiliate link. (Follow/Tag @CrashPadSeries and @PinkLabelTV!)
5. Sex toys in action! Writing a sex toy review? Link to show the toy in action on CrashPadSeries.com. (Or visa versa, if you're writing a CrashPad review and recognize a toy you've reviewed before.)
6. #SexEdPornReviews Like talking about porn and sex education? Ask to join our #SexEdPornReviews to share sex tips and resources connected to the sex seen on CrashPadSeries.com. CrashPad posts a blogger round-up, and you can make a blog post of your own thoughts. Here's an example.
7. Interview a porn star! (Or filmmaker!) Post a spotlight interview and link to their work using your affiliate code. Here's an example.
8. Share our PinkLabel.TV collections. We've grouped films into collections, spanning sex education, experimental films, feature films, classic era and vintage porn, trans representation, thrillers, and more. Browse and share these pre-made collections. https://pinklabel.tv/on-demand/browse/
9. Share our Livestream. Did you know CrashPad livestreams its monthly productions? Members can watch through a one-way "Voyeur Cam" to watch Shine Louise Houston and cast and crew film in real time. Announce the livestream with your affiliate link! Here's the link, replace XXXXXX with your iD: https://crashpadseries.com/queer-porn/livestream/?affiliate=XXXXXX
10. Link to a blog post! For example, you can share PinkLabel.TV's "New Additions" with a link (replace XXXXXX with your ID): https://pinklabel.tv/on-demand/genre/recently-added/?affiliate=XXXXXX
Need help making a banner or creating a link? Email jiz@pinkwhite.biz for assistance.